California has embarked on an ambitious drive to reduce greenhouse gas emissions by 2050, through better planning of transport investment and economic development. Chris Jackson reports from Sacramento.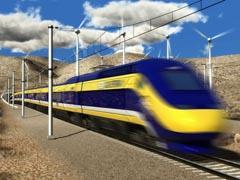 'TRANSPORTATION and the environment are key leadership priorities for Governor Schwarzenegger. There is now a much greater consensus that we cannot go on as before. We need to invest in our infrastructure, but be more environmentally sensitive. And we need to do business differently whilst enhancing our global competitiveness'.
This is how Sunne Wright McPeak summed up the challenges facing California over the next few years, addressing a breakfast meeting in Sacramento on February 1 organised by Siemens Transportation Systems Inc. A former Secretary of the state's Business Transportation & Housing Agency, McPeak is now President & CEO of the California Emerging Technology Fund, and a leading promoter of environmentally-sustainable investment in economic development, transport and land-use planning.
Working closely with the state legislature, Schwarzenegger signed in September 2006 the California Global Warming Solutions Act, which caps greenhouse gas emissions at 1990 levels by 2020 and requires an 80% reduction by 2050. California is one of the few US states to enact a binding commitment, which McPeak says will require reversal of the current growth in road vehicle-km per capita, 'a change in transport technology', and modal shift. 'I don't want to suggest that California is anywhere near where we need to be', she admits. 'In points out of 10 we would be lucky to score 3 or 4 so far'.
One important step is to introduce a 'change of mindset' at the California Department of Transportation, moving the focus from the provision of transport to enabling personal mobility. 'We have to focus on outcomes - the movement of people and goods - and not on simply providing more and more roads'. This means a much greater use of rail transport, both for passenger and freight. In the passenger sector the state is looking for expansion of light rail and commuter rail services in the five main regions, and high speed rail to provide the inter-city links.
Underpinning California's approach is the concept of 'smart growth', which McPeak explains is about 'the inter-relation of land use and mobility', which is 'absolutely pivotal' to a successful long-term strategy. The 'Go California' initiative aims to reduce trip generation by 20% over the next decade through smarter land use, and to ensure that at least 10% of all trips are not made in single-occupancy vehicles. 'It is possible' she insists, recalling her involvement in the design of California's first 'transit village' more than 20 years ago.
Growing road congestion is hammering home the message that the current transport mix is not working, and McPeak says the projections for future congestion levels are 'not an acceptable scenario for global competitiveness, environmental sustainability, or quality of life'. But she recognises that 'where you have congestion, you have a market', in that people will be prepared to pay more to avoid the delays. This can be harnessed to support private-sector investment, she believes. Her first target is a 55% reduction in hours of delay by 2025, through a combination of transport and planning initiatives.
'The Governor's plan calls for a five-fold increase in investment in transport infrastructure, in order to achieve the mobility that will keep California competitive', says McPeak. 'The state still has a way to go to achieve that level, but spending on transportation has more than doubled and Governor Schwarzenegger has made infrastructure a priority issue.'
Over the next decade, McPeak says California needs to invest no less than $105bn, which is way beyond the over-stretched state budget. A recently-approved bond issue has provided $20bn, which she says is 'just a downpayment'. But if invested carefully it should leverage much larger sums from the private sector, she believes.
McPeak emphasises that achieving the long-term goals will require a much greater focus on planning. The development of regional strategic blueprints has already started, but other initiatives will be needed to co-ordinate the multiplicity of local, city, regional and state bodies involved in the planning and approval process. 'The last thing you get to do is spend money', she comments.