Australian's largest iron ore producer BHP is experimenting with the latest heavy haul technology by fitting radio-controlled ECP brakes to four locos and 240 wagons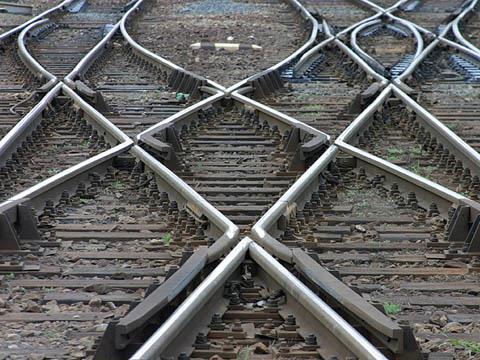 Alex Cowin, Superintendent, Rolling Stock Maintenance BHP Iron Ore Railroad
Steve Hennessy, Product Manager, GE Harris Railway Electronics
LAST YEAR BHP Iron Ore Railroad hauled 55·8 million tonnes of ore from its Newman area mines in the Pilbara to Nelson Point in Port Hedland in northwestern Australia. Compare this with the 33·1 million tonnes handled in 1982, when trains averaged 142 wagons with a payload of 96 tonnes per wagon. Axleloads have since been stepped up to 35 tonnes, and each of the 240 wagons in today's trains carries 112 tonnes of ore. The company has set even higher targets for its railway operations in the future with larger tonnages and better productivity.
Handling such heavy trains would have been impossible without the use of specialist technology. BHP is now poised to launch a pilot project that will see radio-controlled ECP brakes tested in full commercial service on a 240-wagon train. Building on its experience with Locotrol¨ distributed power, BHP Iron Ore has chosen GE Harris Railway Electronics to supply radio-based ECP equipment.
Distributed power has been the key to running some of the longest and heaviest trains in the world. Each day around 240000 tonnes of high grade ore are hauled over the 426 route-km railway in trains grossing 27000 tonnes. It is destined for the Far East, the Americas and Europe and it all moves in a fleet comprising 40 diesel locos of 4000hp and 2244 wagons.
BHP has worked very closely with GE Harris to enhance the operational features of Locotrol, improving safety and meeting the tough environmental demands of the Pilbara. By nearly doubling the train size between 1976 and 1998, BHP gained significant economic advantages, helping to make it one of the world's most productive and efficient railroads.
Locotrol 105 systems were first installed on a few locomotives as a pilot project in the late 1970s. Locotrol II was later fitted to BHP's entire fleet of 4000hp Dash-8 and Dash-7 locomotives in the mid-1980s. This provided single remote locomotive control using microprocessor-based electronics. Features included complete throttle and dynamic brake control, enhanced air brake control, communications and safety interlocks, a maintenance recorder, and multiple frequency usage. Whereas the first 14 systems were only for lead or remote configuration, later installations were for universal lead and remote configuration. Enhanced automatic tests included brake pipe continuity.
By 1988, every BHP train had Locotrol distributed power. Using a combination of Locotrol 105 and Locotrol II, BHP was able to increase train length and tonnage from 179 wagons grossing 19000 tonnes to 222 wagons and 24000 tonnes. By 1990 all Locotrol 105 equipment had been replaced by Locotrol II.
With the introduction of electronic air brakes in the early 1990s, BHP upgraded all 40 of their locomotives to use Locotrol III. This provided a variety of benefits including the ability to run up to four consists of locos and wagons from the lead loco. The configuration was no longer restricted to lead or remote position. Other benefits included more data feedback on operation of the radio control, a direct data interface to the electronic air brake, speed control, and a message repeater ability. Further commands could also be issued from the operations control centre.
BHP has used distributed power not merely to run longer trains, but to change its pattern of operations for greater efficiency. For example, trains can be easily split to serve satellite mines. At the same time, traffic density has fallen while capacity has increased. Drawbar stresses have been reduced, and precise control of slack action has cut damage. The shorter brake pipe charging time means a faster brake response time, meaning safer operations.
The company has also trimmed operating costs thanks to fuel savings and other economy measures. Benefits are also accruing in maintenance, as drawbar and coupler life can be extended owing to lower stresses. Wheel and track wear are also lower.
Today BHP runs nine round trips a day from the seven mines to Port Headland. Typically, each train is formed of two consists, each of 2 locos and 120 wagons. The combined train is 2·6 km long and runs at an average speed of 60 km/h. This type of operation would be impossible without distributed power as drawbar limitations would be exceeded on the uphill grades.
In addition to better train handling during normal operations, Locotrol III has been upgraded with radio-based slow speed control for the loading process. The lead and remote consists can be accurately handled at speeds between 0·5 km/h and 16 km/h with 0·03 km/h increments.
Training and support
BHP has implemented a strong training and maintenance support programme for the Locotrol systems. BHP and GE Harris provided a variety of training courses for operations and maintenance personnel including a CD-ROM package for operators. A locomotive simulator with Locotrol equipment installed is used for training and troubleshooting.
With the help of a GE Harris field service engineer and an excellent training programme, BHP has been able to keep the Locotrol systems running efficiently with an extremely low failure rate for the past 15 years.
World's heaviest train
On May 28 1996 BHP used distributed power to run the world's heaviest train. This spectacular giant carried 57310 tonnes of iron ore from the Newman mines to Port Headland. Nearly 5·9 km long , the train was made up of 10 GE Dash-8 locomotives and 540 ore wagons. The formation was 3 locos+135 wagons+2 locos+135 wagons+2 locos+135 wagons+1 loco. It had a single crew of two in the lead locomotive.
Run as a commissioning trial to test the Locotrol III system to its full capacity of four remote sets of locomotives, the loaded train departed Newman yard at 08.47 and ran non-stop to Port Headland, arriving at 15.31. Travel time of 6h 44min gave an average speed of 63·3 km/h, and the train attained a maximum of 75 km/h.
Next steps
GE Harris and BHP are now implementing a pilot programme to provide radio-based ECP brake equipment on 240 wagons and four locomotives. This will validate the operational benefits of EPX direct brakes at BHP.
Experiments with longer and heavier trains have been limited by the speed of propagation of the brake signals through the brake pipe. ECP technology, through EPX direct brakes, applies and releases wagon brakes simultaneously, as well as incrementally, along the train. This results in an operational benefit that provides better handling characteristics, lower in-train forces, more even brake application and shorter stopping distances.
By selecting radio-based ECP brakes, BHP is upholding its philosophy of buying equipment with a stern eye on the future. The decision addresses the need to constantly push the envelope of train performance and operation. Specifically, radio-based ECP braking offers mission reliability performance that is estimated to be 15 times better than cable-based ECP brakes, while the data bandwidth is five times better than cable-based systems. This means that the railway will be able to achieve major benefits in terms of operations and safety. The radio-based system also eliminates the need for a voltage inverter, required in cable-based systems for trains over 200 wagons due to voltage drop.
Combining EPX direct braking and TrainTalk intra-train communications permits a number of on-board wagon monitoring functions such as load checking and weighing and checking for wheel defects. Radio-based ECP makes available a larger data pipeline that will be able to accommodate sensing and monitoring systems that have yet to be developed.
BHP is also installing the ICON open architecture locomotive control and cab electronics system from GEHarris. This is highly integrated to improve reliability over current systems, reduce cab clutter and ease upgrading. Next year it will take delivery of eight AC6000 locos from Goninan and GE. These will be fitted with Integrated Locotrol Electronic Brakes from GE Harris and Knorr NYAB, opening up further opportunities for more productivity improvements.
Meanwhile the company is purchasing seven GE Harris tower control systems to be installed at the mines. This will allow BHP to control all distributed power trains remotely during the loading process, at the same time removing the need for the crew to stay on board.

CAPTION: Left: Fig 1. Productivity and fuel efficiency have improved substantially as ore tonnages have increased. 1984 saw the introduction of banked 180-wagon trains, which were all fitted with Locotrol by 1988. Opening of Yandi mine in 1994 spurred a further expansion in capacity, which will culminate with delivery of AC6000 diesel locos next year