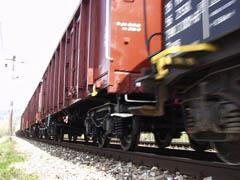 Globalisation and changing patterns of world trade mean that Europe's railways can expect zero growth in their traditional markets. They must accept a different role in the logistics chain and adapt to new markets and demands to survive
Alain Poinssot
Consultant, AXEP Consulting
THE QUESTION posed in the title of this article is causing a great deal of concern within the European Union and among Europe's governments. This article attempts to show that the answer must be viewed in the context of changes in the pattern of global business and in the way the big shippers now operate. I will also suggest how Europe's railways should react to these changes.
First, we must examine the broad background, looking initially at the main phenomena that are changing world trade and commerce. Two specific developments can be discerned. One is the mass production of goods at very low prices at remote sites, typically in China, and the second is for the goods to be customised just before they are delivered to the end user. Examples can be found in the automobile and mobile phone industries, and it is remarkable how companies are succeeding in combining these two developments in an intelligent and pragmatic way.
This new form of industrial organisation is both a result of and a cause of globalisation. It has come about through the disappearance of traditional trade barriers such as customs and language difficulties. Another factor influencing developments is the trend for consumers to adopt the same tastes across whole markets. Examples are computer hardware and software, the automobile industry, clothing, food and pharmaceuticals.
There is also a psychological 'small world' element in that people are now quite accustomed to long-distance air travel and for goods to be shipped over very long distances - as a visit to any large supermarket will confirm. At the same time there has been remarkable progress with mobile telephones and the internet which mean that distance is no longer the barrier to communications that it was only a few years ago.
The consequences of all this for logistics and transport are considerable. The rate of growth in freight transport is in fact faster than many of the world's economies. The use of remote production sites and factories means that more and more flows of goods are feeding that growth, and with very long distances involved the relative transport costs are very low. At the same time the logistics required for shippers to manage these flows of goods are becoming increasingly complex.
Technology has advanced to keep pace with these developments, and this too has important consequences for the world economies generally and for transport operators in particular. With demand rising for smaller consignments and shorter delivery timescales, it has now become possible to specify and control the logistics of individual consignments right across the globe, and to track their movement using GPS location-finding, for example.
Nor should it be forgotten that there have been - and will continue to be - important technical breakthroughs which influence trade and commerce. In the transport sector, these have often brought dramatic increases in speed - such as the advent of jet aircraft, motorways and high speed trains, for example. But 'jumboisation' is equally significant, with wide-bodied aircraft and the forthcoming Airbus A380, giant container ships and supertankers setting the pace. It is important to recognise that real progress as perceived by the end user often depends on a successful marriage of speed and higher capacity. Sadly, in the last few decades rail freight in Europe has missed out on all these changes - although in the USA and to a lesser extent in Australia the double-stack container train has transformed the economics of intermodal transport.
The influence of competition
The progressive liberalisation of world trade has led to increased competition. From a European point of view, there has been extremely rapid growth in intercontinental trade by air and sea, especially with Asian countries. The second major factor is the expansion of the European Union to create a group of 25 trading countries that will probably soon increase to 30. Increasing integration will lead to growing demand for transport. Economic growth will be temporarily, and dramatically, driven by the rapid development of hitherto less-advanced countries in the east.
It is the rapid pace of growth in transport demand that is worrying the political authorities, and more generally everyone who lives in Europe, as they watch new transport infrastructure being built, whether road, rail or airports, and the environmental damage that it causes. Related to this are concerns about the cost of this transport explosion. It is important to realise that this demand will eventually peak before starting to diminish.
Land transport will see a tendency for the size of consignment to decrease, but the demands for rapid delivery and higher standards of reliability will increase. This means that the high-volume and low-speed modes such as rail and inland waterway that are mainly geared to heavy, bulk transport will experience almost zero growth (Fig 1).
Intermodal or combined transport involving long-haul by rail and distribution and collection by road is aimed at a different part of the market, but success depends on the rail sector of the trip offering a very high standard of reliability, matched by acceptable cost and flexibility so that it can compete effectively against traffic moving entirely by road.
Containerisation has 'industrialised' maritime traffic and air freight, simplifying handling and operations, while forwarding agents are enjoying an increasingly important role in the choice of mode. Concentration of flows to a limited number of major ports and airports depends on the provision of efficient and effective services to and from the hinterland, and it is here that there are really significant opportunities for rail.
As an example, Rotterdam handled a record 354 million tonnes of freight in 2004, but it was overtaken by Shanghai, which handled no less than 374 million tonnes. This year could see more than 390 million tonnes handled in the Chinese port.
Does rail stand a chance?
All the developments I have mentioned so far favour those modes of transport that are light, swift and reliable. The outlook for railways is therefore not favourable. Rail has not so far proved able to cope with demand for 'spontaneous' or immediate transport, not least because of its high fixed costs and its inability to adapt quickly.
Nonetheless, there are some slightly more positive elements that could favour rail. Intermodal business remains a major opportunity. But if the question of it being economically viable without grant or subsidy is asked, the answer today is no, with a few exceptions. The objective for the future should be to give rail the ability to operate much more efficiently, with major gains in productivity of staff and assets. Such efficiency could come from new or enhanced rail infrastructure specifically designed for freight, such as the Betuwe Route in the Netherlands.
Secondly, the main ports and airports, which are competing fiercely against each other, offer opportunities for rail to be closely integrated with shipping and airlines. This is a real chance for rail, as it offers a win-win situation for all the parties involved: port operators, railway infrastructure companies and train operators, and the various national and regional governments.
Thirdly, I see a niche market for fast freight and parcels traffic that could take advantage of the growing network of high speed lines, which deserves to be thoroughly explored. Obstacles include the lack of any suitable rolling stock and the need for high speed lines to be maintained during the night - this is certainly the case in France.
Given this generally unfavourable outlook, railway operators must make productivity improvements and better service quality their first priorities. In parallel, I believe that competition between operators can only lead to improved performance and to more attention being paid to the end customer's needs.
But just dealing with these two policy objectives alone has no chance at all of winning back rail's lost market share. This is simply because the philosophy of success here is the same as in any other industry - first you must create the conditions for progress and innovation.
That means putting into practice an infrastructure policy that favours freight operators, with freight-only routes or lines where freight has priority. The infrastructure on these routes should also be able to exploit railway technology to the full, with maximum use of the loading gauge, high axleloads, long trains and high average speeds. Technology exists for all this, but it is not possible to deploy it efficiently on out-of-date infrastructure that still only meets yesterday's technical standards.
This is why I believe that only those initiatives which combine investment in infrastructure enhancement and incentives from government to bring about a real transfer of freight from road to rail will lead to a durable and significant change in rail's ability to compete in the new world of globalised commerce.