As Network Rail's 10-year West Coast Route Modernisation nears completion, Richard Hope explains why the UK government is signing up to a big increase in infrastructure projects targeted at accommodating unprecedented growth in passenger traffic alongside an expanding role for freight in cutting CO2 emissions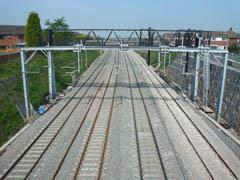 When the results for the 2007-08 financial year ending March 31 are available, passenger-km carried on Great Britain's national rail network are expected to reach an all-time record of 49 billion. A 50% increase since train operations were privatised around 1996-97 explains why inter-city and commuter lines are rapidly running out of capacity.
Moreover, the government promised in the launch of its July 2007 white paper (RG 9.07 p540) that 'over £10bn will be invested in enhancing capacity between 2009 and 2014'. It added that the 'long-term ambition' was for a railway that 'can handle double today's level of freight and passenger traffic'.
Freight tonne-km have likewise grown by 60% since 1996, although the first half of 2007-08 saw this level off. While freight is a much smaller operation in terms of train-km, which determine line capacity, there is growing tension over paths through the London commuting area.
This applies particularly to the Crossrail project to complete a new east-west tunnel under central London between Paddington and Stratford by 2017, generating more intensive use of existing surface tracks that are also used by rapidly expanding intermodal freight landed at Felixstowe and ports in the Thames estuary.
Complementing Crossrail - for which a £16bn funding package was outlined by Prime Minister Gordon Brown last October - is the north-south Thameslink project (p172). Freight is a less contentious issue here, but Thameslink will put more pressure on the southern ends of the Midland and East Coast main lines which potentially offer relief to Britain's busiest inter-city and freight route: the West Coast Main Line (p163).
It is Network Rail that bears the primary responsibility for solving the ?capacity crisis. The infrastructure manager's income is determined by the Office of Rail Regulation after a tortuous process aimed at reconciling the outputs government seeks with the funding it makes available. This process is ongoing for Control Period 4 which extends from April 1 2009 to March 31 2014.
Up to £10bn for enhancements
The current state of play is that NR says it needs £22·9bn in CP4 for operating, maintaining and renewing assets, which is 12% less than CP3 thanks mainly to improved efficiency. But as Fig 1 clearly shows, CP4 will see a massive surge in infrastructure enhancement spending that exceeds anything previously contemplated or achieved since privatisation.
Some further explanation is necessary. The 109 km High Speed 1 linking the Channel Tunnel with St Pancras International at 300 km/h was constructed between October 1998 and November 2007 for about £5bn without Network Rail funding. Crossrail's funding too will be largely off NR's balance sheet, but the £2·59bn to be spent on Thameslink during CP4 accounts for 27% of the £9·63bn that NR hopes to invest in enhancement projects during 2009-14.
It also has to be appreciated that only £8·34bn (87%) of NR's anticipated CP4 enhancement spend is being allocated by the Department for Transport. £779m is expected to come from 'third parties', which includes work carried out by NR for the public body responsible for delivering infrastructure for the 2012 Olympic Games to ensure that adequate rail capacity is available for spectators. It also covers private sector contributions to major station redevelopments planned at London's Waterloo, Victoria, Euston and London Bridge termini.
Scotland's government now funds its own share of NR's network (p165) and will contribute £380m towards two substantial expansion projects in CP4. £145m is needed to complete by December 2010 the £300m restoration and electrification of a fourth route between Edinburgh and Glasgow, including 22 km between Drumgelloch (near Airdrie) and Bathgate which was abandoned in 1982. Other short sections where double track was singled will also see the second track restored.
The electrification element will cover 50 km of double track between Drumgelloch and Haymarket station in Edinburgh, and it is the only active electrification project in Britain today. On completion, the line will carry four EMUs an hour, probably between Helensburgh Central, Glasgow Queen Street and Edinburgh Waverley.
The other major Scottish project is a 2 km branch from Paisley into Glasgow airport due for completion in 2012, and requiring £170m in the first two years of CP4. To provide extra capacity from Paisley into Glasgow Central, a bi-directional third track is being reinstated on 9 km of what was once a four-track formation.
A third large project would see 47 km of abandoned railway restored for commuters between the outskirts of Edinburgh and Tweedmouth, near Galashiels. However, NR has budgeted only £4m for development work on the Borders Railway in CP4 as this is not, as yet, a fully costed or committed project.
Unplugging the bottlenecks
In last July's white paper, the UK government ruled out the development of a national strategy for 300 km/h high speed lines north or west of London. It likewise rejected further electrification, even though only 33% of NR's 15 795 route-km are electrified at 25 kV AC or 750 V DC. This is a very low proportion by European standards, even if one accepts the 36·6% of NR's network carrying passengers in electric trains as a more appropriate yardstick.
The history behind this stance dates back to the Advanced Passenger Train, which was expected to revolutionise travel on the WCML at 250 km/h in the 1970s. APT failed, and it was the diesel IC125 trainsets that introduced 200 km/h travel from 1976.
Two further attempts to step up beyond 200 km/h to run at 225 km/h on the ECML in the 1980s, and on the WCML again in this decade using Pendolinos, also failed. So now DfT wants NR to focus on capacity and reliability in CP4, not higher speeds, and consequently there are no plans for electrifying even the busy Great Western and Midland main lines.
DfT's 'baseline' enhancement projects that NR must address include completing elements costing around £1bn that will be left when WCRM nominally shuts down early in 2009.
Another priority is the new Western Concourse for King's Cross station that will sit on top of London Underground's new Northern Ticket Hall. These are the last two elements in a massive reconstruction of the King's Cross - St Pancras complex that was required to cope with the switch of ?Eurostar services on November 14 2007, and the Thameslink upgrade. King's Cross also gets an extra terminal platform as part of the on-going £400m upgrade for which major contracts are likely to be awarded this summer.
After Thameslink, the biggest single bottleneck that NR is obliged to deal with is grade-separation of the complex junctions at Reading on the GWML. The current flat layout here, coupled with an acute shortage of through platforms, has become notorious for causing delays to trains operated by First Great Western, which seems permanently anchored at the bottom of the punctuality league tables.
As Fig 2 shows, the Up and Down Main tracks carrying IC125 trains between London Paddington, Bristol and South Wales will be dropped into a trench passing under new chords connecting the West of England and Basingstoke lines to the Up and Down Relief (slow) lines. The south-to-west chord mainly carries freight between Southampton and the West Midlands, and the south-to-east chord will likewise be used by freight including stone trains heading for London from quarries in Somerset.
Five new through platforms will be added to the current four, allowing inter-city expresses running at close headways to stop at alternate platforms, hopefully ending the chronic queuing that now occurs all day. The official price tag for enhancements at Reading is £559m, but there are optional add-on elements such as reconstruction of existing platform buildings and the main concourse.
Similar in cost at £550m, but very different in scope, is the reconstruction of Birmingham New Street station, located at the geographical centre of the rail network. This has 12 through platforms, which are all intensively used, but the track layout will remain essentially unchanged. To cope with a big increase in commuting, the focus at New Street is on rebuilding everything above the platforms to solve increasingly severe problems of passenger circulation.
The final go-ahead for this project came on February 12 when the government confirmed £388m of grants. The rest of the funding will come from private sector developers.
Hundreds of smaller projects
The remainder of the Enhancement spend in CP4 is spread right across the network, and NR pointed out in its Strategic Business Plan published on November 1 2007 that 'we currently have over 900 schemes in various stages of development and of varying size and complexity'.
The cheapest way of adding capacity is usually to run longer trains, which often requires platforms to be lengthened. There is still substantial scope in the London commuting area to expand trains to what has become a standard length of 12 cars 20 m long, requiring 250 m platforms. This will be done, for example, on the Tilbury loop and Ockenden branch so that all peak-period trains in and out of London's Fenchurch Street terminus can have 12 cars.
There is even more scope for longer trains to solve line capacity problems caused by an upsurge in rail commuting into major cities such as Birmingham, Manchester and Leeds. Local trains often consist of four to six cars even though platforms at the major stations - where lengthening would be difficult because of complex pointwork at the platform ends - are already long enough to accept 10 or 12 cars.
Another easy win is to restore double track on lines that were singled by British Rail in the austere 1970s. A good example, likely to be addressed in CP4, is the 20 km section of single track between Swindon and Kemble on the line to Gloucester, which is otherwise double track. Such projects are particularly effective in improving punctuality - the government's second key objective after capacity.
CAPTION: Freight tonne-km on the UK railway have grown by 60% since 1996, and the government is predicting another 30% growth by 2014; £200m has been allocated in the 2009-14 budget for development of a strategic freight network.
CAPTION: Completion of the West Coast Route Modernisation will enable Virgin to step up its inter-city services from London Euston to 11 trains/h in December 2008, although the remodelling or bypassing of the busy junctions at Stafford remains to be addressed during 2009-14.
CAPTION: Construction of the Western Concourse at London's Kings Cross station forms part of a £400m upgrading to be completed by 2012. Contracts are to be let shortly for this work, which will also see the construction of an extra platform and improved interchange to London Underground.
Fig 1. Network Rail envisages a significant increase in expenditure on enhancement projects in the five-year Control Period 4 starting on April 1 2009.
Fig 2. Remodelling of the bottleneck at Reading will improve performance on the First Great Western network by grade-separating the busy triangular junction from the fast lines and providing more through platforms. Provision is being made in the £559m project for the eventual extension of Crossrail services west from Maidenhead.
CAPTION: Extra capacity can be gained quickly by lengthening trains; some suburban services in London and other cities are worked by two-car units, occupying paths that could take eight or 12-car formations.
Created in November 2007 as part of DfT's franchise remapping programme, the Stagecoach-run East Midlands Trains operates inter-city services on the Midland Main Line from London St Pancras as well as regional services around Leicester, Derby and Nottingham.