SUSTAINABILITY: Despite the impact of railway construction projects in terms of carbon emissions, new lines still offer significant advantages in terms of long-term sustainability where there is sufficient traffic. But the carbon impact of materials and working methods needs to be optimised in the planning of future projects.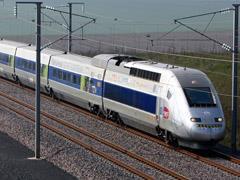 The European Union has set its member states a challenge to cut carbon emissions by 20% over the next decade. Rail is increasingly being seen as a weapon in the fight against climate change, but what is the true environmental impact of railway construction?
In France, the question of climate change was energised by an extensive public debate in 2008 about sustainability policy options - the Grenelle d'Environnement. This resulted in two packages of legislation and some ambitious plans for modernising and expanding the country's rail network.
As part of its response, RFF began to evaluate how rail investment can best support wider sustainability objectives such as saving energy and reducing greenhouse gas emissions. Over the past few years we have seen a growing demand from the public for hard figures about the environmental impact of railways. One of the biggest unknowns was the carbon emissions produced by construction works, which we suspected could represent a significant part of rail's life-cycle carbon footprint.
With several high speed line projects in the government's investment strategy, we had an obvious place to start. The 140 km LGV Rhin-Rhône in Burgundy and Franche-Comté, which is due to open at the end of 2011, gave us a pilot project where we could monitor the carbon emissions for a major project through its entire life cycle.
In 2009 we undertook our first global carbon assessment, based on the method­ology and guidelines provided by the French Environment & Energy Management Agency (Ademe). The tools we have developed are intended to provide facts and figures to support two main areas of decision-making:
1. Setting strategic options for network management and development. We want to be able to rank the impact of any particular project using a 'carbon efficiency indicator', calculating the quantity of carbon emitted or saved during the project life-cycle for each euro invested.
2. Enhancing the quality of projects. We have established initial guidelines for minimising carbon emissions and the environmental impact during the design and construction of rail infrastructure, and we are now planning to extend this work to take account of train operations and maintenance.
As it is not practical to measure greenhouse gas emissions directly, we assess the amount of activity in each area (earthmoving, quantities of materials, transport costs, and so on) and translate them into carbon equivalents using standard values. These are based on pre-calculated 'emission factors', which can be determined for each product or activity in accordance with ISO 14040.
Our first global assessment of LGV Rhin-Rhône estimated the greenhouse gas emissions for the construction phase at about 2000 tonnes of carbon equivalent per route-km. The main contributors are earth moving and soil processing, steel and concrete construction of bridges and tunnels, deforestation, and organisation of the works. In life-cycle terms, the carbon emissions from construction are balanced by the savings which can be expected through modal shift from air and road to rail over the first 10 to 12 years of operation for this project. But sufficient traffic must use the route to ensure a positive carbon 'bottom line'.
As the infrastructure has been built for a life of more than 50 years, we are clear that the long-term sustainability benefits will be substantial. Including the emissions due to construction in the carbon balance sheet does not outweigh the environmental advantages of high speed rail.
Our findings raise some interesting questions about optimising the environmental and economic impact of a project. A full carbon-efficiency action plan should look at work schedules, selection of engineering methods and building materials, as well as the management and organisation of the processes. Paying more attention to such aspects in the guidelines could deliver a 10% to 15% cut in equivalent carbon emissions without major changes to the nature of a project.
RFF is continuing to strengthen its commitment to take full account of carbon impact in future investment projects. We are undertaking full-scale experiments with low-carbon infrastructure elements, and researching how our design processes can be modified to incor­porate carbon-saving practices.
Sébastien Gourgouillat is Head of Performance & Sustainability in the Strategy Department at Réseau Ferré de France. He was previously Transport & Commercial Attaché at the French embassy in Washington DC, and also worked as a project manager in road and rail at the French transport ministry.
He will be discussing RFF's work on sustainability at the Railways & Environment conference being organised by Europoint and Delft University of Technology on December 16-17. For details visit www.railways-environment.com