INDIA: Following the approval of a funding agreement with Japanese banks, the first contracts for construction of the country's two high-capacity dedicated freight corridors are due to be awarded by October, reports Raghu Dayal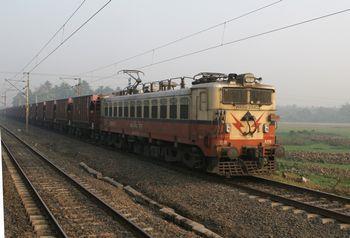 There is no doubt about the urgency of substantial capacity enhancement on the Indian Railways network, as the rapid growth in both freight and passenger traffic over recent years is forecast to continue. So the announcement on April 8 that tenders are being invited for construction work on one of the country's two Dedicated Freight Corridors is a welcome development.
In his budget speech on February 26 (RG 4.08 p245), Railways Minister Lalu Prasad promised that work on the Eastern and Western DFCs would get underway during the 2008-09 financial year. The special purpose vehicle established to lead the projects - Dedicated Freight Corridor Corp of India Ltd - has now invited expressions of interest for the 300 km segment of the Eastern DFC between Bhaupur (near Kanpur) and Mandrak (near Aligarh). A design-and-build contract valued at around Rs30bn is expected to be awarded in September or October. This section of line is needed to relieve a major bottleneck on the existing network, and will be funded directly by IR from its own resources.
Two years ago the government approved in principle the construction of the first two corridors totalling almost 2800 km (RG 10.06 p686). Dfccil was officially incorporated in October 2006, and the 2007-08 railway budget provided Rs13·3bn towards the estimated Rs282bn cost, but not much tangible work has materialised so far.
However, a lot has been happening behind the scenes. A preliminary engineering and traffic study by Rail India Technical & Economic Services has now been followed up by a more detailed feasibility study by the Japan International Co-operation Agency, determining the full technical specifications, agreeing the route alignments and cost projections, and looking at sources of funding.
Boosting rail's competitiveness
Although the volume of rail traffic is continuing to increase, driven by India's strong economic growth, IR's market share of both passenger and freight is actually falling. According to figures issued by the Ministry of Shipping, Road Transport & Highways, total freight movement in the country amounted to more than 1100 billion tonne-km in 2006-07 Of this, the roads handled around 60%, the railways 33%, coastal shipping 6·85% and inland waterways just 0·15%. Back in 1950-51, IR had no less than 89% of the freight market. Citing the overall socio-economic interest, including energy consumption and environmental conservation, the government recognises that rail capacity needs to be enhanced and more customer-focused services introduced to counter competition from other modes.
The 1483 km Western DFC will link JN Port near Mumbai with Dadri in the Delhi area, and the Eastern corridor will run for 1279 km from Ludhiana to Sonnagar. These are intended to relieve two of IR's busiest main lines. The Golden Quadrilateral routes linking the four important metropolitan areas of Delhi, Mumbai, Chennai and Kolkata represent just 16% of IR's network but carry more than 50% of the total freight and passenger traffic. Much of the country's economic growth is also concentrated in this region.
Described as IR's 'most ambitious project ever', the dedicated freight corridors are expected to trigger a much-needed improvement of technical standards across the network and lead to more cost-effective operation. This will see axleloads raised from between 20 and 22 tonnes to 30 tonnes on the main routes, and at least 25 tonnes on feeder lines connecting with the new corridors. Taller and wider wagons will improve payloads. IR is looking for much higher productivity of its assets, leading in turn to a reduced unit cost of transport.
The DFCs are also expected to act as a catalyst for economic growth and encourage value-added services such as the creation of logistics parks and industrial hubs along their routes. These logistics parks will enable rail to compete more effectively with road for break-bulk domestic container business, provide storage and distribution for trainload commodities, and expand its carriage of automobile movements. There may also be scope to develop piggyback business.
Containers in the west
Traffic on the western corridor is forecast at 38 million tonnes in 2013, rising to 106 million in 2023 and 157 million by 2033 (Table II). Corresponding figures for the eastern corridor are 69 million tonnes in 2013, 145 million in 2023 and 155 million by 2033. To a considerable extent, traffic growth on the western corridor will be driven by rising international container traffic through the ports; this is expected to increase by an average 8·6% year on year to 43 million TEUs by 2031. If rail takes a 35% share, the western DFC could be handling 10 million TEUs a year.
The best way to handle container traffic is a source of disagreement between Rites and JICA. At an average of 90 TEUs per train, annual traffic of 10 million TEUs would require 300 trains each way per day. The consultants agree that the answer is to adopt double-stack. Rites favours conventional flat wagons and diesel locos, whereas JICA cites experience in China and elsewhere of using well-wagons to accommodate double-stack on electrified lines. This would require a catenary height of 6870 mm above rail, compared to 4800 mm for single-stack and 7470 mm for double-stack on flat wagons.
Flat wagons could double the capacity per train, whereas well wagons would limit the increase to around 50%. Nevertheless, JICA estimates the electric option would generate a better internal rate of return, at 20·4% compared to 13·5% using diesel haulage. Transport costs per TEU would be around Rs1·5 per TEU-km for either option, against Rs1·8 for single-stacked boxes. The JICA report cites economic, environmental and energy issues in support of electrifying both the eastern and western corridors, pointing out that environmental clearance will be one of the essential requirements in any project appraisal by international lending agencies such as the World Bank, Asian Development Bank and Japan Bank for International Co-operation.
Signifying its tacit acceptance of an electric option, IR has asked the Research, Development & Standards Organisation to carry out trials with double-stack container trains under the wires. Trials are currently underway on the Jakhapura - Daitari section of the East Coast Railway, where trains carrying two containers on flat wagons are being tested on this heavy haul mineral line.
Specifications agreed
Technical specifications for the new lines have largely been firmed up. Both routes are being designed for a maximum speed of 100 km/h and a 30 tonne axleload. They will be laid with UIC 60 kg/m rail and 90 kg/m UTS head-hardened rail on the curves. Minimum main line radius will be 700 m. The rails will be carried on precast concrete sleepers, laid at 1660 per km on the main line and 1540 per km on loop lines and sidings. Turnouts will have cast manganese crossings and concrete bearers. Main line and junction turnouts will have a 1 in 12 angle to permit diverging speeds of 60 km/h, but the loop turnouts will be 1 in 8·5 with a diverging speed of 45 km/h. DFC tracks would be laid at 5·5 m spacing, and at least 6 m from the nearest conventional track.
Whereas Rites favours building the lines for 1500 m long trains, JICA believes that 750 m loops at intervals of 30 to 40 km would provide sufficient capacity for the foreseeable future. Shorter loops would also reduce the land take, and increase line capacity, it says. Going against current trends towards full grade separation, JICA rejects Rites' call for the construction of road overbridges throughout, arguing that level crossings with automatic detection systems, would suffice in urban areas where bridge construction could be difficult and would cause hardship for non-motorised road traffic. With 745 road crossings planned for the western corridor and 580 for the eastern, this is a potentially significant issue.
JICA recommends that freight trains should run to a firm timetable to ensure a high quality of service, particularly for intermodal business. Removing the requirement for an assistant driver in favour of single-manning of locomotives will cut costs, as will the elimination of brake vans through the use of end-of-train detectors. JICA also favours an advanced train control system including CTC and balises for train detection. A fleet of six-axle electric locos rated at 9000 hp is envisaged for the container trains and eight-axle locos of 12000 hp for the bulk freight trains.
Looking at operational and managerial aspects of the project, JICA recommends that the DFCs should have a lean management organisation segregated from IR's existing structure; this would contribute to reduced operations and maintenance costs. Proposed staffing levels are in fact higher than those applying in Japan, but still less than half the number of people that IR currently employs for the same tasks (Table IV).
The Japanese study team also looked at the socio-economic impact in each of the 37 districts along the two routes, calculating that 112 households and 237 squatters would have to be resettled for every 100 route-km. This raises questions about compensation, resettlement costs and job opportunities.
The issue of squatter encroachments is particularly severe on the western corridor between Vadodara and the Mumbai area, with 1200 houses to be cleared in the 80 km between Dadri and Rewari alone. The 92 km route through the Mumbai suburbs from Vasai Road to J N Port has a further 560 dwellings. Nearer to Vadodara, up to 660 ha of farmland must be acquired to create the corridor through the fertile coastal belt. Squatters are also a big issue in the area around Delhi's main container terminal at Tughlakabad. This is less of a problem on the eastern corridor except where bypass lines are planned around Tundla and Aligarh.
Costs and financing
Compensation for land acquisition is one of several elements that are driving up the cost of the project. In its preliminary study, Rites estimated the cost of building the western corridor at Rs166bn and the eastern at Rs116bn. However, JICA now puts the total for both routes at Rs559bn. This includes Rs269bn for construction, Rs100bn for electric locomotives and Rs61bn for land acquisition, as well as financing and management costs, inflation and contingencies.
JICA has recommended implementing the project in three phases, and financing it from a number of sources: internal generation by IR (at 6·5% interest), a low-interest loan from JBIC (0·4%), other international financial institutions (6%) and commercial borrowing (12%). For the proposed funding split, the debt service coverage ratio would be around 1·9, enabling Dfccil to earn a return on equity of around 11%.
In its review of likely funding sources, JICA compared the DFCs with recent railway construction projects in China. CR built up a Railway Development Fund by levying a toll of 0·028 yuan/tonne-km on all traffic, and also issued government bonds, although the lion's share of domestic debt has been raised through the National Development Bank. Local and municipal railways in China have been able to attract private and local government equity. Funding of 26·2bn yuan for the railway to Tibet included a 75% contribution from central government and 25% from the Railway Development Fund. Conversely, the Beijing - Shanghai high speed line will only have a 4bn yuan equity contribution from the government. Similar sums are to be raised by issuing stock in overseas markets and the sale of foreign bonds. The National Development Bank is contributing 15bn yuan, another 12bn will come from as donor loans, and 3·5bn yuan as international loan from commercial banks.
IR currently favours funding the DFCs from its own equity, supplemented by borrowings as necessary. It has already committed its one-third equity contribution to enable work to start on the eastern corridor. There is a strong likelihood of World Bank providing funds for the this route, as well. By contrast, JBIC has shown particular interest in the Western corridor, and will probably provide funding for the initial section of this line between Rewari and Vadodara.