GHANA: Two concessions are under negotiation for privately-funded extensions to open up the north of the country, but Ghana Railways Corp is struggling to operate its residual freight and passenger services. Refurbishment of the Accra - Tema line reflects a welcome government commitment to restore the network to good order, reports David Brice.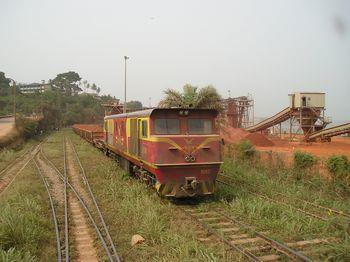 Last year, the government of Ghana announced ambitious plans to rehabilitate the principal routes in the national rail network and build lengthy extensions to serve the north of the country. Driving these ambitious expansion plans are recent political changes, West African regional transport considerations, and a wish to open up the undeveloped and poverty-stricken hinterland.
Despite the signing of various accords and financing agreements, there seems little evidence of work on the extensions getting underway. Nevertheless, there does appear to be a firm commitment to restore the existing network, with funding going into a number of small projects. Transport Minister Christopher Ameyaw-Akumfi pledged that the government would leave 'no stone unturned' in its efforts to revitalise rail services throughout the country.
A recent eight-week strike caused by the non-payment of salaries forced all traffic onto the roads, at considerable cost and substantially increased damage to the road network. Following the strike, President Kufuor announced that the government was allocating US$90m towards railway rehabilitation, including funds from the Canadian International Development Agency. However, a 795 km rail link to provide a connection with Burkina Faso is still seen as a priority (RG 3.08 p123).
Nevertheless, the harsh reality is that Ghana's existing railways are in a very run-down condition, in common with those of many other African countries. Since independence in 1957, the network has suffered badly from a lack of maintenance and investment. It has been allowed to atrophy to the point where 60% of the route length has not seen regular operations for the past decade, and Ghana Railways Corp is struggling to provide any services at all on the remaining lines, despite strong demand from its customers.
Background
For historical reasons, the current rail network only serves the main traffic corridors in the seaboard third of the country, although this is the main area of economic activity.
The first lines were built to support and develop mining interests following the discovery of gold-bearing rocks in the Ashanti region, 200 km inland from the coast. The need to move construction equipment inwards and minerals out led to the construction of an initial 66 km route from Sekondi to Tarkwa in 1898 to 1901. Construction north of Tarkwa proved easier and the following 200 km to the country's second city of Kumasi was completed by 1903. After gold was discovered at Prestea, a 29 km branch from Tarkwa was opened in 1908.
Work began in 1909 on a 304 km line to link the capital Accra with Kumasi, but this was not completed until 1923. Rather than minerals, this line was predicated on the development of cocoa, rubber and timber traffic. Its opening also completed a very circuitous through route between Accra and Sekondi. With the very basic port facilities at Sekondi proving inadequate to handle growing mineral exports, a new deep-water port was opened in 1928 at Takoradi, 6·5 km to the southwest. All railway operations were transferred to the new terminus apart from the extensive workshops which remain near Sekondi.
Subsequent additions included the 157 km Central Provinces line opened in 1923 from Huni Valley to serve further mineral deposits at Kade, and the important 73 km branch from Dunkwa to serve bauxite mines at Awaso, prompted by heavy demand for aluminium to build aircraft during World War II. In 1953 an 82 km link was opened between the Kade branch and the Accra - Kumasi line at Kotoku, shortening the Accra-Takoradi journey by 268 km. The following year saw the completion of a 23 km branch from Achimota Junction, north of Accra, to the port at Tema, which is now becoming increasingly important.
For administrative purposes the railway is divided into three sectors :
Western Line: Takoradi - Kumasi and branches to Awaso and Prestea;
Central Line: Huni Valley - Kotoku and the Kade branch;
Eastern Line: Accra - Kumasi and the branch to Tema.
The railway is built to 1 067 mm gauge, with a maximum axleload of 16 tonnes. The first line between Takoradi and Dunkwa was built very cheaply and is plagued by severe curvature north of Tarkwa, although some consideration has been given to re-alignment to ease operations. All lines are single-track except for a 30 km double-track section between Takoradi and Manso. Semaphore signalling was originally installed, but is now only operational on the double-track section. Solar-powered colour-light signalling, funded by the World Bank, replaced the mechanical equipment on the Western Line, but the cost of spares soon became prohibitive and the system has now been abandoned. Likewise, the single line token apparatus has fallen into disuse, and train operation and crossing arrangements on the rest of the network are controlled using paper tickets.
The safety of train operations is a major concern for GRC, because of the lack of secure signalling, but also the very poor condition of the track and the mineral wagons which convey the bulk of present freight traffic. These vehicles are in continual service, and require a much higher standard of maintenance than they currently receive. Derailments are frequent, caused by bad track or poorly-maintained vacuum brakes and running gear.
Minerals in the west
Freight services on the Western Line are the primary reason for the railway's continued existence, with an average of eight loaded trains a day carrying mineral exports to Takoradi harbour. Of these, two carry bauxite from Awaso (236 km), and six haul manganese ore from Nsuta (60 km). In addition, an occasional freight train operates to move bagged cocoa beans in vans, or timber logs on bolster wagons as required.
Flows of mineral traffic fluctuate because of varying rates of production, and the availability of storage and shipping capacity at Takoradi. Maximum train loads are around 770 tonnes net. Both the bauxite and manganese mining companies are reported to be keen to increase their output but are limited by GRC's restricted capacity in its current run-down condition.
Table I shows the current composition of the main line locomotive fleet. A maximum of 21 locos are needed for daily operations when both mines are working at full output, and the maintenance department sometimes struggles to provide sufficient working locos. Availability of the GM and Henschel fleets averages 78%, but the availability of the Alstom locos is much lower, due to the high cost of obtaining spares.
Use of the Alstom locos, which have a higher axleload, is limited to the manganese trains as the track north of Nsuta is in poor condition. For the same reason the bauxite traffic on the Awaso branch is often tripped in smaller loads as far as Dunkwa, where rakes are coupled to form a longer train for the line-haul down to Takoradi.
Much of the operational freight rolling stock is quite modern, having been purchased second-hand from South Africa (Table III). The bauxite wagons and bogie vans are equipped with self-steering bogies. Both minerals are top-loaded at the mines and discharged by tippler at the port. However, there is a serious shortage of ballast wagons which GRC needs to support its track renewals programme.
Regular passenger service on the Western Line is currently limited to a daily workmen's train with two coaches, on the 10 km section from Kojokrom to Takoradi. Daytime and overnight passenger services between Takoradi and Kumasi have been 'temporarily' suspended due to flooding of the track north of Dunkwa.
Passengers in the east
On the Eastern Line, the primary focus is passenger traffic in and out of the capital. Two pairs of trains each day operate over the 40 km section between Accra and Nsawam. Three locos and two sets of nine or 10 inter-city coaches are allocated to work on the Eastern Line. Trains call at all stations, and a number of halts; these have no passenger facilities but still generate substantial patronage, so the trains are usually well-filled. Fares are extremely low, but revenue protection is strictly enforced.
Using the same rolling stock, GRC operates another pair of trains on the Tema branch as far as Asoprochrona (19 km), and these are due to be extended to Tema shortly.
Although the Tema branch was opened in 1954, services were interrupted in 1995 by construction of a new road under-bridge to improve access to the port: train services have only very recently been restored. The whole branch has however been rehabilitated with track renewal in many places largely financed by OPEC funds. Prior to the interruption of services there was a firm proposal to extend the rail line to Akosombo, the river port at the south end of the great Lake Volta, created by the Akosombo dam built to provide hydro-electric power in 1966.
The navigable waters of this lake extend well into the north of the country. The object of the rail extension was to create a low-cost transport corridor to improve access to the northern provinces. This scheme is again being examined, although the low water levels of the lake may prove a problem.
The passenger fleet includes first and second class sleepers and buffet cars as well as seats cars. Most were built in East Germany in 1987. However, there is currently a shortage of usable vehicles to operate the planned level of service, and a refurbishment programme is underway to improve the position.
GRC also has a pair of four-car diesel multiple-units on order from China Northern, which are now under construction at Tangshan for delivery in January 2009. These are expected to be cheaper to operate on suburban services, and capable of more intensive utilisation than the loco-hauled fleet.
The line between Nsawam and Kumasi has been out of use for 10 years, and no freight services are currently operated anywhere on the Eastern Line.
However, with GRC is keen to tap the current rapid growth of traffic through the port of Tema, as soon as the branch is fully operational again. Plans exist to handle petroleum traffic from the rail-connected Tema refinery to Kumasi, and proposals are being developed to introduce container trains linking Tema with the so-called Inland Dry Port intermodal terminal now under construction at Boankra near Kumasi. If this is successful, container trains could also be introduced between Boankra and Takoradi on the Western Line.
The Central Line is currently only being used for occasional rolling stock transfers between Accra and the workshops at Sekondi.
Building for the future
Following the world trend to rehabilitate moribund railways through private-sector concessions, several attempts have been made in recent years to hand over the Ghana Railways network to a private operator. In the late 1990s Ircon International of India was brought in to assist GRC with a rehabilitation programme funded by the World Bank, with a view to subsequent concessioning. There were several expressions of interest, and in 2004 a consortium led by Spoornet was selected as preferred bidder, although this was not brought to a successful conclusion.
In August 2007 the government announced that a consortium led by Dubai-based Kampac Oil Co with China National Machinery Import & Export Corp had been selected for a US$1·6bn BOT concession to modernise and extend the Western Line, whilst local firm Peatrack was to lead a US$1·4bn concession for the Eastern Line (RG 9.07 p523). German infrastructure specialist Rail.One signed an agreement with Kampac in Berlin in December for the supply of 2 million concrete sleepers for the Western Railway upgrading and expansion project.
In both cases, substantial northern extensions are envisaged. There are four main objectives behind this strategy:
opening up further mineral deposits in central and northern Ghana;
improving transport links to stimulate agricultural development, especially fruit growing;
reducing poverty in the deprived interior regions;
developing flows of transit traffic between the Ghanaian ports and land-locked countries such as Burkino Faso and Mali, thereby increasing Ghana's influence in the region.
Neither of the concessions has yet reached financial close, but the long-term objectives are clear.
Meanwhile, the first priority must be to restore the GRC network to a satisfactory operating condition, and there are clear signs that the government is prepared to provide the necessary support. Both Tema and Takoradi ports are set for significant expansion, and the stable political situation in Ghana has already encouraged development of transit traffic flows to the interior land-locked countries of West Africa. There is a clear window of opportunity here, but it is likely to be lost if GRC is not quickly restored to efficient operation to enable these significant expansion plans to materialise.
David Brice is an independent consultant specialising in railway operating procedures and timetable planning, working on a variety of projects including rehabilitation and expansion schemes in both Central Asia and Africa. He is a former timetabling expert at British Rail.
Information for this article was obtained as part of a study for the French consultancy group Bceom, which the author wishes to acknowledge.
CAPTION: Ghana's railways have suffered from a chronic lack of investment in infrastructure since the country's independence.
CAPTION: Container traffic through Ghana's principal ports at Tema and Takoradi is growing strongly, and the railway hopes to exploit this in future.
CAPTION: A 30 km stretch of double track is operational between the port of Takoradi and Manso, used by freight trains primarily carrying bauxite and maganese for export.
CAPTION: Besides minerals, GRC also carries lower volumes of timber and cocoa traffic.
CAPTION: A refurbishment programme is underway to improve the availability of pasenger rolling stock.
Table I. GRC's main line locomotive fleet
Builder
date
hp
locos
GM/EMD
1996
1 500
14
Henschel
1959
1 425
3
1978
1 650
10
1995
1 650
3
Alstom
1993
2 516
9
Total
39
Table II. Passenger rolling stock
Description
Year
Number
Length m
Tare weight tonnes
No of seats
2nd class seating
1987
30
18·9
27
93
2nd class seating
1990
29
18·9
27
63
Baggage/brake
1987
30
18·9
29
30
2nd class sleeping
1987
22
18·9
28
28
1st class seating
1987
9
18·9
27
56
1st class sleeping
1987
23
18·9
28
18
Buffet
1987
4
18·9
29
65
Tourist
1987
5
18·9
30
7
All vehicles are vacuum braked
Table III. Freight rolling stock
Type
Number
Date built
Maximum speed km/h
Carrying capacitytonnes
Low side
75
1972
65
38
High side
75
1972
65
37
Bogie bolsters
150
1959/77
65
25
Bogie vans
150
1972
65
33
Tank wagons
47
1972
65
33750 litres
Ballast wagons
13
1957
65
36
Flat wagons
40
1951
65
35
SA bogie vans
100
1995
65
36
Well wagons
4
1957
65
50
SA mineral wagons
91
2000
–
43
All vehicles are vacuum braked