Launched 10 years ago next month, Eurostar is reaping the benefits from Section 1 of the Channel Tunnel Rail Link with rising traffic and record punctuality. Chief Executive Richard Brown briefs Murray Hughes on Eurostar's future plans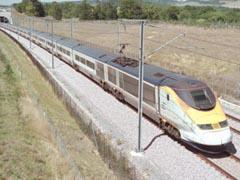 NEXT MONTH Eurostar will celebrate 10 years of carrying through rail passengers between London and the French and Belgian capitals. The first of the 27-strong fleet of trains used on the two routes has emerged with a smart interior refit, entering service on September 7. And thanks to Section 1 of the Channel Tunnel Rail Link, Eurostar is notching up record punctuality figures.
Eurostar's early history was less distinguished. Traffic forecasts before services started had ranged from 13 million to 15 million passengers a year, but by the time of the launch in November 1994 the three railways operating the service had become more cautious, with senior SNCF managers suggesting that 'over 10 million passengers would be carried in 1997'.
As it turned out, their caution was more than justified. In 1997 only 6 million passengers rode Eurostar, although air travel between London and Paris fell that year by 4%, suggesting that rail was having an impact. Since then, Eurostar has seen business turn down in the wake of the September 11 2001 terrorist attacks in the USA and the Iraq war. The arrival of the low-cost airlines further changed the market picture.
In 2001 Eurostar registered its first year-on-year fall in traffic with passenger volumes slipping by 3% to 6·95million. The trend continued in 2002-03, with the volume of passengers using high speed services through the Tunnel declining by 4% in 2003 to 6·3million. But by this time Eurostar was gearing up for a fresh assault on the market, with its hopes pinned on the opening of Section 1 of the Channel Tunnel Rail Link between Cheriton and Fawkham Junction near Gravesend.
The UK's first high speed line added 74 km of route where Eurostars could run at or close to their maximum speed of 300 km/h. Not only that, but the new line largely segregated them from the complex and congested network of Kent commuter services. This, Eurostar hoped, would restore the graph to a growth curve.
Turning the corner
And so it proved. Bookings for the accelerated services using the CTRL opened on July 23 2003, and within weeks of the opening on September 28, Eurostar's traffic figures were rising again.
In the first half of 2004, volume was up by 19% compared with 2003, and Eurostar Chief Executive Richard Brown asserts that since the opening 'there has been no slackening in growth. While faster journeys made a difference, there is no doubt that better punctuality is a factor. Word is getting round in the business market that you can depend on Eurostar'. His comments are borne out by record punctuality figures during the third week of August, with over 97% of trains arriving early or on time.
There have been spin-off benefits too. Traffic was originally expected to grow by 10% when CTRL Section 1 opened. With 20% clearly within grasp, Brown delights in reporting that 'the government is more than surprised - it's a real bonus for them too.'
But he points out that it is not simply the advent of the new line that is driving traffic up. 'It is easy to say that CTRL was a big investment and that this is the pay-off. And it is a jumping-off point and a springboard. But remember that there was a year of preparation with projects to improve fleet reliability and operational stability so that we could maximise the opportunity.'
Integrated management
Since Brown took over as Chief Executive in August 2002, he has been reshaping Eurostar's management to exploit the opportunities that CTRL opens up. Unseen, but critical for the business, has been a major restructuring.
Originally termed Project Jupiter, the restructuring was intended to put in place a single corporate management to take over from the complex arrangements that developed from Eurostar's early history (p694). While Brown has succeeded in these endeavours, the complications of a tri-national business that is partly in the private sector in the UK and in the public sector in both France and Belgium proved too much for the final legal structures to be formalised. This has not stopped Eurostar from reaping the benefits.
'There were two boards for Eurostar Group and Eurostar (UK), with separate meetings and some overlap between the two boards', says Brown. 'Now there is a single management team. In practice, this makes a huge difference with one international strategy for the whole business. We can draw on knowledge, experience and ideas in a central way, and we can make quicker decisions and do more in the same time.'
Brown adds that the board is 'a much more balanced team; some people have been with us for years, while others are newcomers. Some are drawn from other parts of the railway and other industry sectors, and this means a broader outlook. For example, Commercial Director Nick Mercer was with AirMiles and First Direct and had an understanding of transport, our Communications Director Paul Charles is a former journalist, and IT Director François Dorr was in the travel trade. So the board is multi-talented and multi-national right through.'
Brown feels that 'it should have been like this all along. The previous management wrestled with it but never quite got there - I don't know how my predecessors managed. Now it feels good with the three railway shareholders as one board, with more productive working relationships. In the past, priorities and perspectives were different, with people just looking at their slice of the business through the cost-sharing protocols. Now they have realised that the way to grow their slice is to grow the cake - they have a shared perspective on the business.'
Asked for a practical example, Brown cites the London - Brussels service, where 'the market share was lower than the Paris route. We decided to drive up the market share and put the proposals to the French, who in the past would have said ôwhat's that to do with us?ô Now they realise that if you grow the market, all shareholders will benefit, and we have reallocated resources where the biggest opportunity is.'
In the UK, Brussels has never had the same popular draw as Paris, and low figures on the route to Belgium prompted SNCB at one stage to contemplate pulling out of Eurostar altogether (RG 1.04 p27). Brown points out that 'SNCB has huge financial and political challenges. While Eurostar is still seen as part of the business, they began asking the non-asked questions.'
As 2004 has progressed, SNCB has seen a revival in the fortunes of Eurostar traffic to and from Brussels, with this year's volume up 25% compared with 2003. 'The airlines are reducing their service', says Brown, 'and I think SNCB would be mad to pull out. We are trying to convince them - and we are supported by the results', says Brown.
Selling the Brussels route
What exactly has been done to grow the Brussels market? Brown says first that Eurostar captured 59% of the rail/air market in July, and in anticipation of further growth, it will be raising its market share target above the 60% set for opening of Section 2 of CTRL in 2007.
Growth came after a range of sales and marketing initiatives, as well as adjustments to the timetable, which were altered to concentrate on the business peaks, with a non-stop morning service to London offering a 2 h 15 min timing introduced on January 5 2004.
The pricing structure was also changed fundamentally, with different structures and levels compared with the Paris route. Brown remarks that Brussels fares 'had been pitched at the Paris level or just below for no particular reason', but the changes mean that 'we are now competitive with the airlines. At the same time we have more than doubled marketing expenditure in Belgium, moving some jobs to Brussels from London. We have also strengthened our sales force and introduced volume incentive deals to establish ourselves better in the Belgian market. A significant step was to make tickets from London to Brussels valid to any station in Belgium. Psychologically this is a little thing, but passengers perceive it as being part of something bigger.'
Change in philosophy
Brown feels that the Brussels strategy exemplifies 'a key philosophical change' in that the business is looking at fresh opportunities and not just concentrating on 'where we are strong', which was a hangover from a 'defensive' policy.
To make his point, Brown cites the global sales market as an example of Eurostar's move to the offensive. Responsibility for sales 'sort of rested with SNCF, but we now have direct responsibility. We have direct distribution agreements with travel agents, and this has led to dramatic growth, with a 50% year-on-year increase in the USA and travellers coming back after the drop during the Iraq war.' Brown notes that bookings from Australia are up by 15% to 20% too. He concedes that it was 'never impossible to make bookings before, but it was like wading through treacle'.
Research showed that 'barely 25% of visitors to Europe who travelled from Paris or Brussels to London rode Eurostar, and one reason was that it was quite difficult to buy tickets. We were not on the airline global booking systems, and travel agents had to use a separate computer to make a Eurostar booking. Now we appear alongside the airlines on the same computer.' As part of the strategy, Eurostar is 'doing deals with the airlines to sell tickets as one of their sectors. For example, we have deals with ANA, Air New Zealand and US Airways who sell on our behalf, and it's a growing list. This should make a substantial difference.'
Beyond the three capitals
Eurostar has operated ski trains from London to the French Alps at weekends during the winter since December 1997, and these quickly proved a success. 'We know we can fill ski trains if we can run more of them', says Brown. So far this has not been possible, but in July 2002 Eurostar launched a weekly summer-only London - Avignon direct service. Since June 1996 it has also run a daily train to and from Marne-la-Vallée to serve Disneyland Paris. All other trains run to and from Paris or Brussels.
There are many reasons for this limited range of destinations, not least the need to ensure secure overnight stabling for the trains. But wider horizons are in prospect. With the opening of CTRL Section 2, the range of daytime journeys possible from London within the 3 h to 4 h bracket starts to widen out.
Brown confirms that a direct London - Amsterdam service 'is the number one target'. One reason is the completion, simultaneously with CTRL Section 2 in 2007, of the HSL-Zuid high speed line between the Belgian border and Amsterdam. Brown says that London - Amsterdam is the second largest air market in Europe after London - Paris, and 'we are looking hard at that - the potential is quite exciting. We will reach Schiphol in around 3 h 30 min from London and Rotterdam in 3 h, and Amsterdam fits within the 4 h barrier.'
But there are major challenges. The biggest is that HSL-Zuid will be equipped with Level 2 ETCS/ERTMS and will therefore not be compatible with other European high speed lines. Eurostars are not fitted with ETCS, and Brown notes that neither are the Thalys trains that provide the present service between Paris and Amsterdam.
'Another issue is the 20 km gap on the high speed line through Rotterdam', which presents a further technical problem as Eurostars are not fitted with Dutch train protection equipment. 'So we are faced with a potential double modification, which is not very attractive.' A modification to accept the 1·5 kV DC power supply in the Netherlands is less of a problem.
Are other destinations possible? 'If we get Amsterdam', says Brown, 'it will be the icing on the cake with CTRL Section 2. We have to focus on the core cake - that's what we were established to do. We will do other destinations, but we shall be very selective.' Pressed on possible cities such as Köln or Genève, Brown asserts that 'they are not on the radar. If Amster-dam is OK, then we may look afterwards, but remember that we are a volume operator because our trains are so big.'
While more through services may be a distant prospect, Brown agrees that 'there is scope to improve connections in Brussels' and to introduce further attractive fares. In the pipeline before the end of 2004 is a fares deal for destinations in the Netherlands, which will mirror the 'any station in Belgium' validity of London - Brussels tickets. Fares to Dutch destinations will start at €70.
Measures of success
So much for revenue. What about costs?
It is no secret that Eurostar is not profitable in the conventional accounting sense. Brown believes that a true profit is attainable, 'but I cannot say when. We are already demonstrating that Eurostar is successful even if we do not see a profit. Conventional accounting does not measure the benefits, and the mistake is that conventional profit is the measure of success. But we are running the business to drive up the contribution we make to covering costs as fast as possible.'
Eurostar has 'very high fixed costs', which are shared between the three railways under a formula agreed before the Channel Tunnel opened. Access charges are paid for use of the high speed lines on both sides of the Channel, 'which are not cheap things to run on'. In the UK, the charging structure is based on 'the full average cost, including paying for future capacity' on the high speed line. The charge for use of Section 1 of CTRL is around £140m a year, and Brown says 'it will take some time to cover this'.
Charges for use of the Channel Tunnel are enshrined in an agreement signed in July 1987, which runs to 2052. Part of the agreement provides for a Minimum Usage Charge to be paid to Eurotunnel until November 2006, and Brown asserts that 'nearly half our revenue goes to Eurotunnel - we are underpinning Eurotunnel's finances.'
Eurotunnel's revenues from through rail services, both passenger and freight, amounted to £217m in 2002, and without the MUC, rail revenue would have fallen £63m short of this figure. In 2003, Eurotunnel's rail revenue figure was £232m.
Brown says that the change in 2006 'is not a big issue for us - we have always known it was coming.' But he agrees that there may be a better way of structuring the charge, noting that this will 'depend on Eurotunnel wanting to renegotiate and offer something better. We don't need a change on our account as we have the all the capacity we need.'
Brown says that in other parts of the business Eurostar 'has already taken a fair amount of cost out. Obviously the focus is on driving the top line up. But there are more savings to come.' Distribution costs are set to come down thanks to the internet, which is 'obviously cheaper than conventional methods'. Eurostar expects to build on 'e-technologies, with true ticketless travel' planned for the future.
With the first refurbished sets in service, it is too early to contemplate replacement trains. 'No, we are not looking at that yet', says Brown, 'as we have had 18 months preparing for CTRL Section 1, and we are now turning our minds to Section 2, when a comparable leg-up is needed. The right time is after CTRL Section 2 is up and running.' As both sections are being built 'to full UIC standards with no compromises that would close down future options, it is taken as read that we would go for a Duplex-style double-decker.'
---
Fleet in profile
Eurostar operates 27 sets on the London - Paris and London - Brussels routes, and this fleet also covers services to Avignon and the French Alps.
A further three sets have SNCF branding and are used on domestic services in France, mainly between Paris and Lille. A fourth set is based in Belgium and is kept for charters; it can be used in the core fleet when needed. All 31 sets are formed of two power cars and 18 intermediate cars.
A further seven sets originally built for services that were to run to regional centres north of London have just 14 intermediate cars. One of these was used for tests on the CTRL and holds the current British rail speed record of 334·7 km/h, set on July 30 2003; it was named 'Entente Cordiale' by HM Queen Elizabeth II on April 5 2004.
Three others are leased to Great North Eastern Railway and used on White Rose services between London King's Cross and Leeds. The rest are maintained as a non-operational reserve. The seven North of London sets will undergo refurbishment after the rest of the fleet.
Starck choices
The first refurbished Eurostar trainset entered commercial service on September 7, working the non-stop 08.13 service from Brussels to London. Exteriors are unchanged, but passengers will find that the interior has been given a complete makeover. The interior design concept was originally developed with French designer Philippe Starck, who was appointed Eurostar's Artistic Director in 2001 - although his tenure expired in January 2004 before the first refurbished trains emerged.
It was not intended to be so, but Eurostar was let down by problems with its seating supplier, delaying completion of the refurbishment by several months. The work is being carried out at SNCF's Hellemmes workshops near Lille.
The seat designs are not as quirky as those in the business lounges at Eurostar termini, but a new type of headrest has been added to the first class seating 'to make it easier to sleep'. Laptop power sockets have been fitted to all first class and two standard class coaches. This was a compromise because of power supply limitations.
Eurostar Chief Executive Richard Brown says that 'there is a lot more luggage space. We have removed some seats in all standard class cars, and the train now has 750 seats rather than 766. This should deal with the problem of running out of luggage space before we had sold all the seats.' Other changes include the use of wood-effect panelling in the bar cars and different lighting. 'It is not a revolutionary change, nor does it need to be', says Brown.
Who owns Eurostar?
At the outset, Eurostar was owned by British Rail, French National Railways (SNCF) and Belgian National Railways (SNCB). Privatisation of British Rail triggered important changes, and BR set up a subsidiary called European Passenger Services which included its interests in Eurostar.
In June 1996 EPS was sold to London & Continental Railways, which in February that year had signed a 999-year concession to build and operate the 108 km Channel Tunnel Rail Link between Cheriton and London King's Cross. In October 1996 LCR changed the name of EPS to Eurostar (UK) Ltd.
In 1998 LCR awarded a management contract to InterCapital & Regional Rail Ltd to manage Eurostar (UK) Ltd until 2010. ICRR is a consortium of National Express Group (40%), SNCF (35%), SNCB (15%) and British Airways (10%), which is a sleeping partner.
Eurostar Group was set up in September 1999 to pursue a commercial strategy, with representatives from all three railways sitting on the board. A separate board still existed for Eurostar (UK) Ltd. The Eurostar Group shareholders agreed to integrate the business by setting up a single management, and in 2004 a single board to manage Eurostar was established.
CAPTION: Nearly half of Eurostar's revenue goes to Eurotunnel, but this could change when the Minimum Usage Charge ceases to apply in 2006
CAPTION:Punctuality of Eurostar services is reaching record highs thanks to Section 1 of the Channel Tunnel Rail Link
CAPTION: Fare-paying passengers enjoy the first run of the first refurbished Eurostar set, which entered service on September 7. The first class interior features seating with 'snooze-friendly' headrests.
CAPTION: UK and French pattern laptop power sockets are now provided in all first class vehicles
Fig 1. Eurostar traffic volume passing through the Channel Tunnel 1994-2004. Other traffic is carried between Lille and Brussels and between Calais-Fréthun and Paris
CAPTION: Eurostar's shares of the London - Paris and London - Brussels rail/air markets; the 2004 figure only covers January - August
CAPTION: Eurostar's refurbished standard class interior offers more luggage space
CAPTION: The refurbished bar area has a modern café feel
CAPTION: Eurostar runs a weekly London - Avignon service in the summer aimed mainly at British holidaymakers Photo:Eurostar
Les parts de marché d'Eurostar en voie d' atteindre les objectifs
Inauguré il y aura dix ans le mois prochain, Eurostar récolte les bénéfices de la Section 1 de la ligne à grande vitesse entre Londres et le Tunnel sous la Manche, avec une fréquentation en hausse et une ponctualité record. Avec les premières rames rénovées sur le point d'entrer en service, Richard Brown, directeur exécutif, revèle à Murray Hughes que l'équipe de direction restructurée a su attirer avec succès de nouveaux clients sur la relation Londres - Bruxelles et, à l'ouverture de la Section 2 de la ligne Londres - Tunnel, vise 80% de parts de marché par rapport à l'avion, sur la relation Londres - Paris. Un train direct Londres - Amsterdam est également à l'étude
Eurostar auf dem Weg, die Marktanteilsziele zu erreichen
Der nächsten Monat vor 10 Jahren gestartete Eurostar profitiert von den Vorteilen des ersten Abschnitts der Kanaltunnelanbindung Channel Tunnel Rail Link in Form von Verkehrszunahmen und verbesserter Pünktlichkeit. Mit der Inbetriebnahme des ersten überholten Zuges eröffnete Richard Brown, Geschäftsführer, gegenüber Murray Hughes, dass das neu strukturierte Management-Team erfolgreich neuen Verkehr zwischen London und Brüssel anzieht, und dass ein Anteil von 80% im Land-/Luft-Markt zwischen London und Paris angestrebt wird, wenn der zweite Abschnitt des CTRL 2007 in Betrieb kommt. Eine Direktverbindung zwischen London und Amsterdam ist ebenfalls in Planung
Eurostar encaminado para dar en los objetivos de la cuota de mercado
Eurostar, que cumplir 10 años de su lanzamiento el próximo mes, se est beneficiando de la primera sección de la línea de alta velocidad entre Londres y el Túnel del Canal (CTRL) con un mayor tr fico y récord en puntualidad. Con los primeros trenes renovados ya listos para entrar en servicio, el Director Gerente Richard Brown reveló a Murray Hughes que el equipo de gestión reestructurado est generando con éxito m s tr fico en la ruta Londres - Bruselas y se centrar en una cuota del 80% del mercado ferroviario/aéreo Londres - París cuando la Sección 2 de CTRL se inaugure en 2007. También se tiene previsto un servicio directo Londres - Ámsterdam