SOUTH AFRICA: The Gautrain rapid rail link between Johannesburg and Tshwane is taking shape, with the first section on course to enter revenue service before the two cities host the 2010 football World Cup.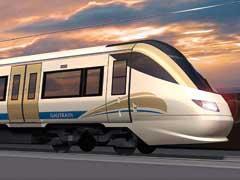 Jack van der Merwe, Chief Executive Officer, Gautrain
The landscape of the Gauteng region is undergoing unprece­dented change. Tower cranes soar above construction sites, tunnelling is underway deep below Johannes­burg, gigantic viaducts are emerging from the ground, and soon an array of new high-rise buildings will transform the skyline of Johannesburg, Ekurhuleni and Tshwane.
For most South Africans, Gautrain has become synonymous with pride. It is inspiring that South Africa can assemble the expertise necessary to build a project of this magnitude and complexity, using global best practice and technology to build a much-needed public transport system in a province frustrated by traffic gridlock.
Serving the economic heartland of South Africa, Gautrain is more than just a train. It is one of several strategically-integrated projects being driven forward by the Gauteng Provincial Government to help structure economic development and meet the anticipated transport demand resulting from forecast economic and population growth.
The socio-economic growth statistics are simply staggering. Over the 20 years from 2005 to 2025, forecasts suggest that an additional 2 million jobs will be created in Gauteng, provided that the province's economy continues to grow at an average rate of 4·5% to 5% a year. By 2015 the local population is expected to increase from 9·6 million today to around 14·6 million people. We are already seeing traffic volumes on the local roads increasing by almost 7% year on year.
Public-private partnership
First proposed by the Gauteng government in 2000, the Gautrain Rapid Rail Link is an 80 km standard-gauge Y-shaped network linking Johannesburg, Tshwane and O R Tambo International Airport. It will be operated by a fleet of 24 four-car EMUs running at a maximum speed of 160 km/h.
The line is being built under a public-private partnership, and prequalification for the 15-year build-operate-transfer concession was launched in February 2002. By May of that year two consortia had been shortlisted to submit final tenders, but it was not until July 2005 that Gauteng Premier Mbhazima Shilowa was able to announce the preferred bidder (RG 8.05 p463). Financial close was achieved the following year, allowing construction to get underway in September 2006.
Under the PPP agreement, the Gauteng provincial government appointed the Bombela Concession Co as main contractor, responsible for implementation of the entire project, including design, construction, operation and maintenance. The company is owned 50% by international partners Bombardier and Bouygues, and 50% by local companies Murray & Roberts and Strategic Partners Group - the black economic empowerment partner.
The concessionaire has appointed Bombela TKC as turnkey contractor responsible for managing the delivery of the civil infrastructure as well as the electrical and mechanical equipment. TKC is a specialist integration management company, and has in turn awarded two subcontracts to a Civils Joint Venture (Bombela CJV) and an Electro-Mechanical Joint Venture (Bombela E&M).
A separate contract covers the 15-year operations and maintenance concession period, which is the responsibility of the Operations & Management Joint Venture (Bombela O&M), in which RATP Développement is the main shareholder.
Shortly after financial close, the provincial government and Bombela jointly appointed Arup as Independent Certifier for the project. Arup is responsible for monitoring more than 1 000 milestones set out in the concession agreement, and ensuring that Bombela is paid when the relevant milestones are reached. The Seriti Consortium was jointly appointed as Independent Socio-Economic Monitor to verify and monitor compliance with socio-economic development targets, to ensure that the project achieves its aims in terms of black economic empowerment, small, medium and micro-enterprise development, skills development and job creation.
We recognise that skills development underlies sustainable job creation, so Gautrain has helped to put in place training programmes to develop much-needed skills in the construction and civil engineering fields. On-the-job skills transfer and coaching support the National Skills Development Strategy and the Accelerated & Shared Growth Initiative for South Africa. Trainees also undertake courses at local further education institutions.
Construction progress
The Gautrain network will be operated as two routes. Journey time on the South-North line between Johannesburg and Tshwane will be 42 min, whilst the West-East route linking Sandton with the Airport will take less than 15 min.
The South-North line starts at Park station in central Johannesburg and runs north in tunnel for 15 km to Marlboro, serving underground stations at Rosebank and Sandton. From Marlboro the route runs east of Buccleuch to Midrand, where the station will be conveniently located next to Grand Central Airport. From here the route largely parallels the old Pretoria - Johannesburg road through Glen Austin and Randjiesfontein to a station serving the Centurion business district. The next 11 km runs down the Snake Valley and east of Salvokop into Tshwane. Pretoria station will be situated adjacent to the existing Sarcc premises, giving convenient inter­change with local rail services. The line will then run east for 6 km, largely following the existing suburban railway to the terminus at Hatfield.
West-East services will start from Sandton and share the same tracks as far as Marlboro, where they will diverge to parallel an existing rail alignment through Rhodesfield, where a station will serve the Kempton Park area. From here the line will pass over the R21/R24 road interchange into the O R Tambo International Airport to reach an elevated station in the main terminal complex. At Sandton, trains to the airport will use a dedicated platform clearly marked to facilitate interchange to and from the South-North line.
'Gautrain is more than just a train. This visionary project is a key driver of economic and urban development in Gauteng'
Jack van der Merwe, Chief Executive Officer, Gautrain
The full network includes 15 km in tunnel, 10·5 km on viaduct and around 50 km of surface earthworks where the trains will travel at grade.
Around 75% of the tunnelling is being done using drill and blast techniques, with the remainder being bored. An earth-pressure balance Tunnel Boring Machine named 'Imbokodo' has started work to excavate approximately 3 km of tunnel from Shaft E2 at Rosebank towards Park Station. International best practice has been adopted for erection of the viaduct decks, using two launching girders able to lift pre-cast segments and assemble the spans. One of these is currently erecting Viaduct 3 crossing Allandale Road in Midrand, whilst the second, known as 'Matata', is building Viaduct 13 over Centenary Way in Modderfontein on the airport branch.
A combination of ballasted and ballastless trackforms is to be used on the network, with slab track deployed for the sections in tunnel. Head-hardened rail is being used with a combination of the Sonneville system and Pandrol clips laid on concrete sleepers. In tunnel, the Sonneville system encases the track in a rubber mould to reduce noise and vibration transmission to the trackform. Corus is supplying 20 000 tonnes of rail from its Hayange facility in France under a €16·5m contract.
Rigid overhead catenary fed at 25 kV 50 Hz is being erected in the tunnels, with conventional catenary used elsewhere. Trains will be equipped with on-board ATP and controlled by lineside signals.
The line will serve 10 stations, spaced between 5 km and 8 km apart. Of these, Johannesburg, Rosebank and Sandton will be underground, O R Tambo International Airport, Centurion and Pretoria will be elevated, and the other four will be at ground level. The architecturally-striking structures are being designed to blend into the surrounding area. More than 9 000 park-and-ride spaces are being provided, including a three-level underground car park at Sandton with 1 400 bays. The precast concrete yard at Midrand is the largest such facility in the southern hemisphere, and will in future be the site of the maintenance depot for Gautrain's feeder bus services.
The network is now expected to open in two phases, with the first due to be completed in just 45 months, in time for the 2010 football World Cup tournament. This stage includes the line from the Airport to Sandton, plus a short section northwards from Marlboro to the depot and Operations Control Centre at Midrand. The second phase is expected to be completed during the first half of 2011. This will complete the South-North main line, running from Sandton into Johannesburg and from Marlboro to Tshwane.
Frequent services and feeder buses
When the network is fully operational, the services will use 20 of the 24 Electrostar EMUs now being built by Bombardier at Derby. Two vehicles in each of the units allocated to the West-East line will be adapted for airline passengers, with fewer but more luxurious seats in 2+2 rather than 2+3 arrangement, and special baggage storage areas near the doors. Bombardier is to build 15 cars to the airport specification, comprising a mixture of driving and intermediate cars.
On-board public address and passenger information display systems will direct passengers to the appropriate part of the train on the east-west route, with the dedicated airport cars clearly branded as such. The two airport vehicles will only be accessible to passengers boarding at Sandton station - at Rhodesfield and Marlboro, selective door-opening equipment will only allow access to the two commuter cars.
Trains will initially run as four-car sets, able to carry more than 100 000 passengers per day in each direction. However, there is provision for multiple working to permit eight-car trains, which could increase capacity to 15 000 passengers/h in each direction without modifying the signalling.
Services will operate every 12 min at peak times and every 18 min off-peak during the first three years. For the remainder of the concession period, peak-hour services will be stepped up to run at 10 min intervals.
High levels of security will be provided on trains and stations, using automatic ticket gates, more than 650 CCTV cameras and very visible policing. Bombela E&M has been contracted to supply automated fare collection systems and CCTV equipment; passengers will use smart cards rather than magnetic stripe ticketing.
Supplementary fares will be levied on journeys to O R Tambo airport, although no city-centre check-in desks or checked luggage transfer is being provided initially.
To enable convenient door-to-door commuting, the concessionaire will also supply and operate a fleet of buses to work dedicated feeder and distribution services between Gautrain stations and the surrounding suburbs up to a radius of about 10 km. The buses will be fully accessible, with low floors, wide entrances and folding wheelchair ramps. They will operate at the same frequency as the trains, with co-ordinated timetables, and will run from 06.00 to 21.00, Mondays to Fridays. An integrated ticketing system will cover both train and bus services.
We have identified 36 indicative feeder bus routes, but to reflect potential changes in development and operational conditions the actual routes will only be finalised shortly before the services commence. Provision has also been built into the contract for changes to the feeder network during the 15-year concession period.
Compatible ticketing systems will facilitate transfers between Gautrain and other public transport such as taxis and Metrorail trains. Easy transfers will also be provided between Gautrain and the recently-announced Bus Rapid Transit networks in both Johannesburg and Tshwane.
Driving urban development
The visionary Gautrain project is a key driver of economic and urban development in Gauteng. The prospect of efficient door-to-door transport in the near future is already driving the rapid development of high-density urban and suburban areas around the future station sites. Urban densification will inevitably change the lifestyle of Gauteng residents, and Gautrain will enable them to work, live and reach entertainment facilities without enduring the frustration of escalating traffic congestion.
By helping to focus this economic development in a clearly-defined corridor, Gautrain is also playing a vital role in countering unplanned urban development, which has threatened to destroy the precious green lungs of Gauteng province. Instead, the ripple effect is rapid urban regeneration across Johannesburg, Tshwane and Ekhuruleni.
According to a recent survey released by mortgage risk management company Lightstone Risk Management, the proportion of local property transactions taking place within a 2 km radius of the Gautrain station sites has increased from 3·8% to 6·0% since the project was launched in 2000. This is in contrast to property transactions in the areas between 2 km and 3 km from the stations, which have remained relatively consistent at between 4% and 5% over the same period.
Sustainable job creation will also contribute to Gauteng's booming economy. Projections estimate that Gautrain has created and/or protected more than 29 400 direct, indirect and induced jobs between 2007 and 2008. This figure is expected to increase to about 33 000 during 2008-09.
CAPTIONS: The precast concrete yard where the viaduct sections are being assembled is located next to the future depot site.
An elevated terminus is being built to serve O R Tambo airport, This section will open in 2010 under the first phase of the project, helping to transport visitors to the 2010 FIFA World Cup.
The drill and blast method is being used for 75% of the tunnelling. The remainder of the 15 km of tunnels will be machine bored.
The tunnel boring machine was named 'Imbokodo' at a ceremony on January 8.
Park station will be situated at the heart of Johannesburg's business district.
An artist's impression of Park station.