The largest city in Kyushu is one of the fastest growing in Japan, and one of the few to be actively expanding its urban rail provision. Benjámin Zelki investigates.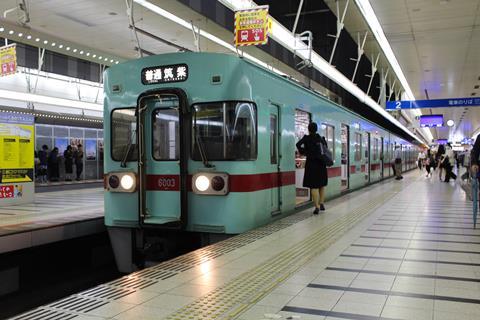 Fukuoka is the fifth largest city in Japan with a population of 1·6 million in the core, rising to 5·7 million in the wider Fukuoka-Kitakyushu urban region. It is the main conurbation on the island of Kyushu and the only city in the country that is currently extending its urban rail network.
A 1·4 km extension of the 1 435 mm Nanakuma Line will link Tenjin-minami with Hakata, the city's principal main line station, where interchange will be provided with local lines as well as the Kyushu and Sanyo Shinkansen and metro services to Fukuokakuko airport. One intermediate station is being built at Canal City to serve a district popular with tourists.
The line is being extended as part of the city's efforts to mitigate rising traffic congestion and improve air quality in the central area, but municipal operator Fukuoka City Transportation Bureau's decision to extend the metro network is also partly related to the city's status as a hub for innovation and a 'start-up city'. It has the fastest growing and youngest population among large towns, in contrast to the shrinking and ageing population of Japan overall. While Japan's second largest metropolitan area, centred on Osaka, has seen a decline in population since around 2012, Fukuoka's population growth is expected to last until around 2035, even as the wider Fukuoka-Kitakyushu region's demographic is tipping into decline.
Three line network
FCTB has a basic metro network consisting of three lines totalling approximately 30 route-km. Two of these are 1 067 mm, like Japan's conventional main line network, and the third is 1 435 mm gauge. As in other Japanese urban areas, there is some through running between the metro and local main line railways. The three metro lines between them carry 406 000 passengers/day.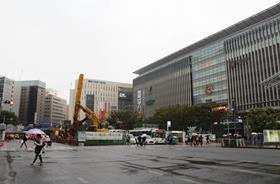 The 1 435 mm Nanakuma Line opened in 2005 over a 12 km route between Hashimoto and Tenjin-minami, serving 16 stations. The extension was originally expected to open next year with work having started in February 2014, but after water drainage problems caused a road to collapse near Hakata station in November 2016, the link is unlikely to open before 2022. Meanwhile, the expected completion cost has increased from ¥45bn to ¥59bn. The extension is being tunnelled using the shield excavation method with concrete underpinning.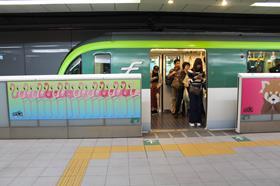 Today the Nanakuma Line carries 82 000 passengers a day, with trains running at headways of between 4 min and 6·5 min in the peaks and every 7 min to 8 min off-peak. The line has a fleet of 17 four-car Hitachi Series 3000 trainsets equipped with ATO, although drivers are still used on all services, as on most Japanese metro networks.
Running beyond the metro
The 1 067 mm gauge Kuko and Hakozaki lines opened in stages between 1981 and 1993, and they share a common section from Meinohama in the west to Nakasu-Kawabata. Trains on the airport line have similar headways to those on the Nanakuma Line. Between the peaks four trains/h run through from Meinohama to Chikuzen-Maebaru or Karatsu on JR Kyushu's Chikuhi Line; at peak times this increases to 5 trains/h.
On the Hakozaki Line, the basic 8 min interval service links Kaizuka with the junction at Nakasu-Kawabata. In the peaks roughly every other train runs through to Meinohama; off peak these turn back at Nishijin. At Nakasu-Kawabata the two lines' platforms are linked by escalator, providing an easier interchange than at Tenjin where a walk of around 500 m is needed to change between them. Trains runs between 05.30 and midnight; all the metro stations have half-height platform screen doors.
The trains which run through onto the Chikuhi Line are managed jointly by FCTB and JR Kyushu. FCTB's trains are drawn from a fleet of 18 six-car Series 1000 trainsets, supplied by a consortium of Kinki Sharyo, Kawasaki Heavy Industries, Nippon Sharyo, Tokyu Car Corp and Hitachi in 1983-86. The metro also has a further six Series 2000 trainsets supplied by Kinki Sharyo, Kawasaki Heavy Industries and Nippon Sharyo in 1998.
JR Kyushu meanwhile has three six-car Series 303 trainsets built in 2002 by Kinki Sharyo, and six Series 305 trains supplied by Hitachi by 2015. Like the metro fleets, these are equipped for attended ATO.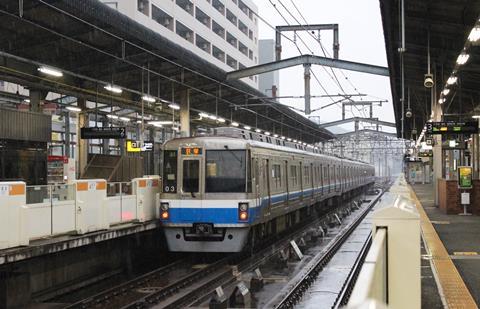 Suburban links
JR Kyushu manages three more high-density suburban routes serving Fukuoka. The Kagoshima Main Line runs parallel to the Kyushu Shinkansen, running north-south across the island between Kitakyushu, Hakata and Kagoshima. The Fukuhoku Yutaka Line runs from Hakata to Kitakyushu Orio, running via Shin-Iizuka on a route to the east of the KML, while the Kashii Line links Fukuoka with Saitozaki to the northwest and Umi in the southeast.
Another private railway
Fukuoka is also served by a third operator, the Nishitetsu private railway, which manages two routes. The Nishitetsu Tenjin Omuta Line between Tenjin station in central Fukuoka and Omuta in the southern suburbs. This has a metro-style intensive service, although a variety of express, limited stop and local trains are provided along the 45 km route; up to 19 trains/h run at peak times.
The Nishitetsu Kaizuka Line meanwhile connects Kaizuka metro station with Nishitetsu Shingū over an 11 km route. A fleet of three-car Series 600 EMUs provides standard 15 min headways with 10 min intervals offered in the rush hours.
This article first appeared in the December 2019 issue of Railway Gazette International magazine.