A decision to fit ETCS Level 2 on DB's main line between two major cities in south Germany means that three separate signalling and train control systems will operate in parallel on one route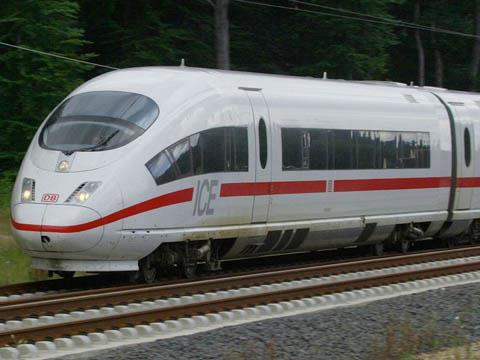 DEUTSCHE Bahn has called tenders for supply and installation of ETCS Level 2 on its 171 km corridor between Nürnberg and München. Bids for the €35m project close in early July, and completion is planned by the end of 2009.
Between Ingolstadt and München the route consists of tracks upgraded for trains to run at 200 km/h, but over the 89 km north of Ingolstadt a 300 km/h Neubaustrecke was opened in May 2006. The entire route is fitted with DB's LZB inductive train control system which is mandatory for trains operating at speeds over 160 km/h.
Despite this, DB is to equip the route with ETCS Level 2. Asked to explain, DB says that the route forms part of the Stockholm - Verona corridor designated by the EU in the ETCS migration strategy. As funding from the EU is conditional on the route meeting the requirements of the latest TSIs, the line has to be fitted with Level 2. There have been suggestions that the Federal Railway Office instructed DB to install Level 2 on the route, but EBA says this is not the case and that the requirement was part of an agreement with the European Commission.
DB says the ETCS equipment will operate in parallel with the existing LZB - the two systems will remain separate, and trains running at 200 km/h or more will use one or the other system depending on the onboard equipment with which they are fitted.
As the upgraded line between Ingolstadt and München is also used by trains running at less than 160 km/h, conventional lineside signals and associated train protection equipment will remain in place. This means that three separate signalling and train control systems will be operational on the same line.
Asked what advantages Level 2 offers over LZB, DB points out that it is standard European equipment which will allow trains not fitted to operate with DB's own signalling to use the line. In terms of safety and capacity, LZB and ETCS Level 2 are comparable, DB notes.
DB has yet to decide how many vehicles will need to be fitted with ETCS to run over the line, and separate tenders will be called for supply of onboard equipment. On average 72 trains a day use the Neubaustrecke in each direction, with 120 trains a day each way on the upgraded section.
DB has already installed Level 2 equipment on a section of the main line from Berlin to Halle and Leipzig. The 39 km northern section between Ludwigsfelde and Jüterbog was one of the national ERTMS test lines enjoying funding from the European Commission, but the 120 km southern section was funded nationally. Level 2 is also being installed on the 128 km route from Saarbrücken to Ludwigshafen as part of the TGV Est Europ?en programme. However, as 200 km/h will not be possible on the 33 km section between Kaiserslautern and Neustadt, Level 1 will suffice. The work will be completed by December 2008.