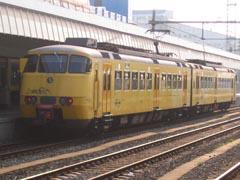 NETHERLANDS: Further reforms are needed to open up the rail market, according to a review commissioned by Transport Minister Camiel Eurlings.
A committee chaired by former minister Winnie Sorgdrager was asked to consider the relationship between NS, ProRail and the state. Its report, Over 't Spor, was published on April 4. This found that NS retained too much control, and new operators such as Veolia and Syntus were too dependent on the state-owned company. NS has a protected monopoly of domestic passenger services on the core network until 2015, and its subsidiary NedTrain still maintains most trains for smaller operators.
Despite the fact that NS is itself competing in other European markets, Sordrager felt that ProRail and NS were too firmly rooted in an inherited government mindset, and had 'cultural problems' accepting new entrants at home. As NS was not genuinely independent, its operational and strategic objectives would inevitably influence its relationships with other operators. She believed that NS at least needed 'a complete change of business practice'.
Stations were seen as a particular problem, with the transport ministry and competition authority NMa receiving numerous complaints. The committee found that it was far from clear to the public which company was responsible for which aspects of station operations. Public areas including platforms and lifts are managed by ProRail, but NS controls commercial functions such as ticket sales, information, staff facilities and cycle parking. With NS running all stations, new operators had found it difficult to lease commercial space and staff facilities, or even to advertise their feeder bus services.
Thus the report recommends that property management, station operation and provision of ancilliary services should be transferred to an independent body. But Sordrager recognises that this is 'legally not so simple', and would have far-reaching consequences for NS.
The committee also felt that traffic control and capacity allocation could become more business-like if separated from ProRail, although the infrastructure manager argues that the three functions need to remain integrated. Readers may recall that traffic control, capacity allocation and infrastructure maintenance were indeed set up as separate businesses in the 1990s, but were merged to form ProRail from January 1 2003.
Initial reactions have been mixed, but our correspondent reports that most politicians agree that NS has been behaving like a private monopoly and probably needs to have its wings clipped. The government is expected to outline its thinking in the next month or so.