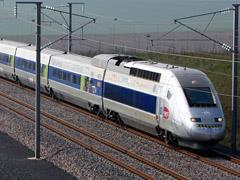 FRANCE: Ambitious is the adjective that best describes SNCF's plans for the next five years. Newly-appointed President Guillaume Pepy went public on March 19 with his proposals to expand and develop the French national railway, promising 'a change in pace and scope'.
Declaring that SNCF was 'now financially healthy' (Table I), Pepy indicated that the railway was able to finance its own investments, which in 2007 represented €2·99bn or 12·5% of turnover. Another indication of good performance was payment to government of a €130m dividend.
In his letter of nomination from French President Nicolas Sarkozy, Pepy is tasked with 'regaining a central role for SNCF in freight transport in France, in Europe and worldwide'. If SNCF grasped the opportunities available, said Pepy, it would be 'much larger' in five years' time - he is targeting a huge increase in annual turnover to around €36bn that would generate an operating profit of €2bn.
Pepy lost no time in moving towards this objective, with the announcement on April 6 of a 'voluntary and friendly cash offer' to acquire 100% of logistics group Geodis, in which SNCF already has a 42·4% stake. The bid is worth €135 a share, valuing Geodis at more than €1bn. If the offer succeeds, Geodis would be integrated into a restructured freight and logistics business able to offer customers 'a complete platform of intermodal solutions'. The combined business would employ about 50 000 staff and generate an annual turnover of around €8bn.
On April 7 SNCF announced plans to acquire 75% of Import Transport Logistik, a German business based in Dresden with subsidiaries in the Netherlands, the Czech Republic and Poland. With ambitions to expand into Ukraine and Russia, ITL would give SNCF access to much of eastern Europe. Together with Geodis, it would put SNCF in a position to compete effectively with the DB Schenker empire. Other acquisitions or partnerships are not ruled out, with ABX and SBB Cargo mentioned as possibilities - 'everyone is talking to everyone else', remarked Pepy.
Plans have already been laid to restructure management of the freight business, with Pierre Blayau, Chairman & CEO of Geodis heading the combined entity. ?Olivier Marembaud will continue as Senior Vice-President of Fret SNCF until May 28, when he will take over the functions of Vice-President in charge of exec­utive management policy for the SNCF group. Luc Nadal is expected to replace him as head of Fret SNCF.
Plans call for Fret SNCF to achieve 50 billion tonne-km by 2012. In the short term a programme of reviving and optimising the rail freight network would be implemented with financial contributions from RFF and possibly the government, with SNCF contributing €50m by 2010. A €20m fund would be set up to help attract new customers, and the Fret GV programme (RG 2.08 p76) would be launched in 2009. In the meantime bids have been called for 85 main line diesel locos able to operate in Belgium, the Netherlands and Germany.
Passenger businesses
Pepy reported that the long-distance passenger business Voyageurs France Europe had increased turnover by 5% in 2007 to reach €6·89bn. Thalys traffic was up by 6·6%, Eurostar by 15·5% and Lyria by 19·4%, with internet sales rising by 20%. Over the next three years commercial policy would be honed to achieve better load factors.
Confirming that a tender was being prepared to start renewal of the TGV fleet, Pepy proposed that 'TGV Duplex could be married with AGV technology' to create 'Europe's best-performing jumbo'. He also believed that maximum speeds of 350 to 360 km/h would be needed on selected routes.
The 'Proximité' business, which groups SNCF's TER regional passenger oper­ations, Transilien (Paris suburban), Corail Intercités, Keolis contract oper­ations and the Effia passenger services activities, reported a 4% rise in turnover to €5·9bn. Over the next few years management efforts would be devoted to achieving better punctuality, with RER Line D in Paris singled out for special treatment because of its poor reliability. Punctuality of TER services would improve from 91% to 94% by 2012, and marketing efforts would be stepped up to attract more season-ticket holders.
Table I. SNCF's financial performance in 2007
Turnover €m 23 691
EBIT €m 994
Recurring net profit €m 657
Free cash flow €m 302
Net debt €m 4 488