Investment by individual states has brought a dramatic growth in inter-city rail travel on some US corridors, and may trigger the political breakthrough required for the development of true high speed lines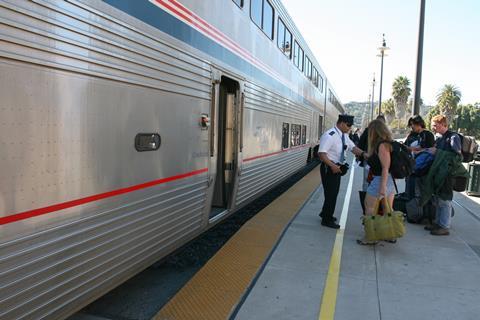 Joseph P Schwieterman is Professor of Public Service Management at DePaul University in Chicago. His publications include 'When the Railroad Leaves Town: American Communities in the Age of Rail Line Abandonment'.
EFFORTS to create a high speed rail network in the United States have been described as a process of taking two steps forward and then one step back — over and over again. Just when a breakthrough seems imminent, a setback makes it necessary to revise expectations downward.
'We haven't yet been able to forge a political consensus to build entirely new high speed routes in the USA', says Mark Walbrun, Vice-President at transport consultancy TranSystems. But along with a growing number of transportation officials, he is encouraged by recent improvements to the passenger network. More than a dozen state governments have stepped up investment in rail corridors, and many are reporting dramatic ridership gains. 'The states are seeing some benefits similar to high speed rail simply by offering services that are equal to or slightly faster than using private automobiles', Walbrun explains.
Amtrak President Alex Kummant has voiced similar optimism, recently noting that 'the stars may be aligning for a resurgence of passenger rail.' In sharp contrast to just a few years ago, when Amtrak was fighting for its survival, the national passenger operator now appears poised to expand.
A wide variety of motives underlie the growing push for faster trains in the USA, ranging from stimulating economic development to protecting the environment and forestalling costly additions to airport capacity. Some high speed rail proposals are nothing more than political pipedreams, while others are more firmly grounded in reality. Yet it is noteworthy that state and local officials, even in areas with low population density, are increasingly accepting the notion that faster trains are critical to their future. This represents a fundamental change in thinking. 'There is growing pressure for government agencies throughout the country to expand passenger rail corridors', says Walbrun.
Taking stock
A proper account of US passenger rail aspirations requires acknowledging that 'high speed rail' is a term loosely defined on this side of the Atlantic. In Europe and Asia planners often limit its use to trains running at 200 km/h and above, but in America the term often applies to corridors achieving only 175 km/h (110 mile/h), hardly a standard of performance that will put the USA among the world's high speed elite.
Limiting speeds to 175 km/h avoids having to comply with federal regulations requiring total grade separation of road and rail alignments above this speed, which would be a major obstacle on routes with numerous level crossings. 'Much of what we're proposing really isn't high speed, but a way to give travellers more attractive options,' notes Richard Harnish, Director of the Midwest High Speed Rail Association, an advocacy organisation based in Illinois with 1 700 members.
American railroad companies seemed destined to be on the cutting edge of development after World War II. The largest carriers experimented with new rolling stock and tracks realigned for higher speeds. But advances in air and car travel, accelerated by major federal investment in new roads and airports, had a devastating effect, and by the mid-1960s the bottom had fallen out of the passenger train market.
In 1965 the federal government jump-started investment by passing the High Speed Ground Transportation Act. This made possible the launch of Metroliner services between New York and Washington DC from 1969, routinely hitting 190 km/h. The rest of the country watched the passenger network gradually shrink and in 1971 the publicly-owned Amtrak assumed responsibility for most remaining services to ensure the continued existence of a national network.
Experiencing something of a long-term decline, the high speed movement did not reach its next milestone until 2001, when Amtrak brought its Acela trainsets into service on the Northeast Corridor between Boston and Washington DC. For the first time the USA had regularly-scheduled trains travelling at speeds greater than 215 km/h. On the Boston route, trains reached speeds of 240 km/h over several short stretches, although average speeds remained much lower.
Nevertheless, Acela failed to spark the hoped-for revolution in rail travel. Not only did the trainsets suffer from serious mechanical problems which have now been resolved, but no further investment was to follow for several years. A soft economy as well as rising costs stretched government budgets to their limits, and by 2004 even the continued existence of Amtrak was in question.
Good news from the states
Attitudes towards developing the passenger network have since brightened appreciably. There has been a boom in ridership on trains operating even at moderate speeds that are nevertheless still competitive with the private car. These gains have been fuelled by increasing road congestion and rising fuel prices.
Rather than waiting for the federal government to take action, state governments have provided funding to upgrade short and medium-distance corridors, focusing primarily on poor track that limits maximum speed and bottlenecks that constrain capacity. The number of states providing funds for such corridors has grown to 14, helping to compensate for the severe shortfalls in federal funding.
'From Washington to Florida, from New York to California, and everywhere in between, states have committed hundreds of millions of dollars for short-term, incremental improvements that have fuelled the growth in Amtrak ridership', Frank J Busalacchi, Chair of the States for Passenger Rail Coalition, told a subcommittee of the US Congress earlier this year. In state-funded corridors, traffic has risen more than 25% since 2002 while that on the rest of the Amtrak system has been relatively flat.
Students and other young travellers are responding to improvements in a particularly noteworthy fashion. 'The current generation is not as fascinated with cars as their parents and grandparents were. They are not "anti-car" as the environmentalists might wish, but they don't feel any particular social stigma if they ride a train or the local transit system', notes F K Plous, a consultant with Corridor Capital LLC. 'Consumer electronics are also changing travel patterns, especially among young people, who bring BlackBerries, iPods and DVD players onboard.'
California's programme has grown to encompass 60 Amtrak services, making it a case study of the benefits of an incremental approach. 'California made a strong commitment many years ago to building conventional corridors, and it is paying off', says Plous. Although the maximum speed remains just 126 km/h, passenger traffic on three major state-supported routes has grown by more than 20% over the past three years, with the Capitol Corridor linking San Jose, Oakland (San Francisco) and Sacramento growing by more than 13% this year alone.
In the Pacific Northwest between Portland, Oregon, and Seattle, infrastructure investment as well as the introduction of Talgo rolling stock have helped to cut journey times and improve Amtrak's image. Planning is underway to realign portions of the route to further cut the journey time between Seattle and Portland by 1 h to just 2 h 30 min.
In Pennsylvania, train speeds on the 170 km Keystone Corridor from Harrisburg to Philadelphia were raised from 126 to 175 km/h last year, sparking a 14% jump in traffic. The improvements cut 20 min from the schedule, allowing Amtrak to increase the service frequency without acquiring additional rolling stock.
Another success story is the Downeaster from Boston to Portland, Maine, which is supported by three states. The maximum speed on the 185 km route is also 126 km/h, but worsening highway congestion keeps enough passengers coming to ensure that a significant proportion of the five daily return trips are regularly filled to capacity. Downeaster services carried a total of 330 000 passengers in 2006, nearly 25% more than in 2005. This growth occurred despite the fact that rail passengers cannot cross Boston without changing stations.
Elsewhere in the northeast, Acela now also appears to be on a roll. After years of chronic underperformance, the trains finally appear to be living up to expectations. On-time performance has climbed to 87%, and the service attracted 6% more riders in 2006 than in the previous year. Revenue climbed even faster due to aggressive pricing that routinely makes the train more expensive than flying.
For the first time in many years, there is also a push to create a new inter-city route into New York City. This entails rebuilding a partially-abandoned 210 km route from Hoboken, New Jersey, to Scranton, Pennsylvania. In the past, limitations on terminal and tunnel capacity in New York impaired the development of new services. The completion in 2003 of the new Secaucus Junction in New Jersey has, however, boosted the viability of the proposed line to Scranton by creating an interchange between the Northeast Corridor and regional feeder routes.
Midwest developments
Midwest states were initially slow to embrace passenger rail, but this is changing. Results have been particularly encouraging on routes radiating from Chicago, a major Amtrak hub, and in 2006 passenger volumes grew by more than 20% on the Wolverine Corridor from Chicago to Detroit.
With seven daily round trips, the Hiawatha Corridor from Chicago to Milwaukee now has the highest frequency of any inter-city route outside California or the northeast. A new station at Milwaukee's Mitchell Airport has heightened interest in air–rail interchange nationwide. 'Mitchell station shows that many of Amtrak's best opportunities revolve around airports, where passengers have more services available to them than at the downtown terminals', notes Walbrun.
Last year saw the addition of two extra return trips on the 457 km Chicago – St Louis route, increasing the number of services to five a day. Ridership is up by more than 30% as a result. 'There is enormous potential here', believes Plous. 'The corridor has striking similarities to the Paris — Lyon route, with respect to both travel distance and the population served.'
States in the south of the USA have had less success in developing inter-city passenger corridors. Ambitious proposals for 'bullet trains' operating on tracks built in the median strips of highways in Florida have come and gone, hampered by high construction costs and a treacherous political environment that is often hostile to rail.
These setbacks have encouraged planners to concentrate their attention on launching conventional services on existing routes. Many point to the success of North Carolina's 280 km corridor linking Charlotte with Raleigh, which operates on infrastructure owned by a private–public partnership. This corridor saw a double-digit percentage increase in passenger traffic last year, helped by a 30 min reduction in journey time.
Notwithstanding these improvements, it is considered something of a policy failure that there is no longer any inter-city rail service to many major cities in the US interior where the population is greater than 1 million, including Columbus, Nashville and Phoenix. Nor is the passenger train present in such busy corridors as Houston — Dallas, or from Atlanta to Florida.
Higher speeds on the horizon?
Passenger rail advocates are hopeful th at improvements now in hand will become a springboard for major investment in a true high speed network. Few expect new high speed lines to emerge anytime soon, but a study that I conducted, and whose results will appear in an upcoming issue of the Journal of the Transportation Research Board, shows that there are many serious proposals ready to move forward as soon as funding becomes available.
The potential of faster passenger services to contribute to economic development has been recognised across the country, and government agencies have identified 64 corridors where services would operate at 176 km/h or above (Table I). These corridors encompass 24 940 route-km, and form 21 networks that could serve 93 of the largest 100 metropolitan areas in the continental USA.
More than 18 400 km of these routes are envisioned to use conventional technology, with diesel traction operating at a maximum speed of 176 km/h. Increasing speed from the present maximum of 126 km/h will generally require large-scale increases in track capacity, perhaps even the addition of a dedicated track to separate freight and passenger operations.
Adding to the challenge is the fact that less than 12% of routes identified for faster service are publicly owned, which will make it necessary to negotiate with the freight railroads before making improvements. More than 70% of these lines are single track and handle more than 10 million tonnes of freight a year, making potential operating conflicts between freight and passenger services a major issue. The persistent delays facing Amtrak's long-distance trains, some of which rarely arrive on time, serve to illustrate the severity of the problem.
300 km/h and above
An additional 5 120 route-km have been identified by state governments as having potential for passenger services operating at speeds above 300 km/h. The proponents of these advanced systems in California, Florida and Texas envision building new lines on the median strips of major highways and on alignments alongside existing railways to attain TGV-style speeds. Although decisions have yet to be made about the preferred technology, promoters of several other routes under consideration, including Los Angeles — Las Vegas, are suggesting the adoption of maglev.
There is a particularly vigorous debate now underway over a high speed system linking Los Angeles with San Francisco and other cities in California. Few expect this project to move beyond the planning stage in the immediate future, but the intensity of debate suggests that passenger rail will remain on Governor Arnold Schwarzenegger's agenda. A key question is whether to push hard for these ambitious proposals, or to focus on more modest initiatives that are perhaps more achievable, such as the expansion of conventional corridors that have a proven track record of success.
In truth, no-one expects that a high speed revolution is now just around the corner. Making it a reality outside of the Northeast Corridor will require a political breakthrough in Washington. Several corridors have received federal funding to improve safety at level crossings, but the absence of a significant financial commitment remains a major stumbling block. 'After nearly a century of federal investment in road, air and water infrastructure, we still have no federal fund for development of a modern passenger rail system', laments Jim Coston, who served on the Amtrak Reform Council.
On a more positive note, there is a proposal in Congress to establish a pool of federal matching funds for a limited number of state-sponsored rail projects. This initiative, sponsored by senators Frank Lautenberg and Trent Lott, has garnered significant political support. Although limited, it would certainly be a sign that the federal government is waking up to the reality of corridor development.
Whether or not such funding materialises, it is clear that recent improvements are expanding the political constituency for modern passenger rail service. 'There is something significant happening to change attitudes about high speed trains in this country', declares Plous. 'Part of this change is attributable to growing ridership, but another part is the embarrassment seeing Europe and Asia move forward with high speed rail much more rapidly.'
Caption: Princeton, Illinois, is served by the Chicago to Quincy route, one of Amtrak's fastest growing corridors
Caption: Acela trains have brought speeds of up to 240 km/h to parts of the Boston – New York – Washington route
Caption: The Portland – Boston Downeaster recorded a 25% increase in traffic in 2005-06, and is regularly filled to capacity
Caption: Seattle is the largest of the Pacific Northwest cities served by Amtrak's Cascade Corridor, where the introduction of Talgo rolling stock has cut journey times and helped improve Amtrak's image. Realignments are planned to cut Seattle – Portland trips to 2 h 30 min
Table I. Corridors proposed for passenger rail services at 175 km/h and above
| Location | Length km | Technology |
| --- | --- | --- |
| 1 Midwest | 5 712 | diesel |
| 2 Southeast | 3 061 | diesel |
| 3 California | 2 306 | high speed electric and diesel |
| 4 Florida | 2 123 | high speed electric |
| 5 South Central and Texas | 1 890 | high speed electric and diesel |
| 6 Ohio and Lake Erie hub | 1 778 | diesel |
| 7 Gulf Coast | 1 389 | diesel |
| 8 Front Range | 1 261 | diesel |
| 9 Empire Corridor | 1 157 | high speed electric and diesel |
| 10 North New England | 939 | diesel |
| 11 Cascade | 749 | diesel |
| 12 Northeast Corridor | 733 | Acela |
| 13 Keystone Corridor | 168 | electric and diesel |
| 14 California - Nevada | 432 | maglev |
| 15 Atlanta - Chattanooga | 402 | maglev |
| 16 Pocono | 195 | diesel |
| 17 Arizona | 190 | diesel |
| 18 Downeaster | 186 | diesel |
| 19 Virginia | 112 | diesel |
| 20 Minnesota | 88 | high speed electric |
| 21 Baltimore - Washington | 64 | maglev |