Devolution of power from the UK to the Scottish Government has enabled Scotland to formulate its own transport strategy. Andrew Grantham asked Chief Executive of Transport Scotland Malcolm Reed about the future direction of Scotland's railways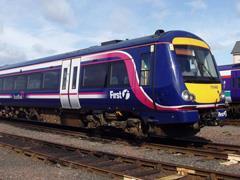 Dr Malcolm Reed was appointed the first Chief Executive of Transport Scotland when it was created in 2006. He had been Director General of Strathclyde Passenger Transport Executive since 1997, and before that spent 17 years in various roles with Strathclyde Regional Council
Transport Scotland was created as an agency of the Scottish Government in 2006. What are its responsibilities?
Scotland is in a unique position following the Railways Act 2005, which brought together governmental responsibilities for train services and the rail network at a devolved level within Scotland. Because of the smaller number of industry players compared to England, this resulted in a simpler, more straightforward industry set-up north of the border.
Transport Scotland was established in 2006 as a new agency of the Scottish Government, partly in response to the additional railway powers which Scottish Ministers gained through the 2005 legislation, but also to deliver existing commitments to major investment in the rail network. We do this alongside our responsibilities for the trunk road network and the national concessionary travel schemes. This cross-modal approach has allowed us to develop as a strongly-focused transport planning and delivery organisation.
There is already positive partnership working between the key rail bodies and Transport Scotland as funder and specifier, which devolution supports by promoting shorter lines of communication and more effective co-ordination. We are uniquely well positioned to see the priorities of the Scottish Government reflected in our engagement with industry partners, resulting in specific Scottish solutions to industry issues.
There is a powerful logic behind this. Scotland has a strong railway market, but only 5% of passenger rail journeys originating in Scotland are to or from the rest of the UK, so rail needs primarily to be considered alongside other parts of the Scottish transport system - roads, ferries, and internal aviation - within a co-ordinated policy framework.
What is the relationship between Transport Scotland, the UK Department for Transport, and passenger rail franchise holder First ScotRail?
As part of our responsibilities, Transport Scotland monitors and manages delivery of the franchise by First ScotRail, working closely with FirstGroup in developing passenger rail services and in improving their quality.
The UK Department for Transport is not involved in the ScotRail franchise, but we maintain close liaison with DfT on industry matters and on the cross-border inter-city franchises which they specify and fund. The exception is the overnight Anglo-Scottish sleeper trains, which we control directly as part of the ScotRail franchise. We also liaise with DfT on the relatively few areas of rail policy which have not been devolved, mainly safety regulation and interfaces with the European Union.
"Ministers have given a high priority to railways, and both they and the Scottish public have a right to expect active stewardship of their interests"
Transport Scotland's role is therefore broadly equivalent to DfT's in relation to the English railways. However, because of the closer structure of the industry in Scotland and the higher proportion of public financial support that it requires, we are more hands-on than DfT. We make no apologies for this, because our Ministers have given a high priority to railways, and both they and the Scottish public have a right to expect active stewardship of their interests.
What are Transport Scotland's principal objectives for the rail network?
The Scottish Government's key aim is to focus on creating a more successful country, with opportunities for all of Scotland to flourish through sustainable economic growth. We see rail as central to this, especially in view of its environmental advantages. Rail provides the fast connectivity between major centres of population that underpins a modern economy; it gives the high-volume commuter links that support our main cities; it maintains access to more rural areas and to the main ferry ports linking with our island communities and Ireland; and it moves an increasing proportion of goods to market, both internally and elsewhere in Britain.
These factors are reflected in the objectives in our policy paper, Scotland's Railways published at the end of 2006, and in the High Level Output Specification for 2009-14 that was submitted to the Office of Rail Regulation in July 2007. Above all, these documents emphasise the need to improve journey times and quality and to increase capacity where needed, so that rail can offer a viable alternative to road transport, and also to air on journeys to and from England.
So far as the internal workings of the industry are concerned, we have stressed the need for the railway to reduce its cost base and increase its efficiency and productivity. As part of this, we feel it is vitally important that the industry speeds up its own processes. Long lead times are, frankly, sometimes a serious disincentive to external investment.
What policies and incentives will Transport Scotland use to meet these objectives?
As the funder and specifier of Scotland's railways we see it as essential for Transport Scotland to provide active leadership. Through our direct engagement with industry partners and our participation in regulatory processes we will seek to ensure that ministerial priorities are fully understood by the industry, and are reflected contractually and in regulated settlements and decisions.
These formal tools provide us with part of the leverage and incentives that we require to deliver our objectives. We are also, of course, investing in both infrastructure and equipment to achieve a faster and better railway with more capacity to meet projected needs. We are about halfway through our current enhancement programme, worth almost £1bn, which has already seen the completion of a major upgrade of Edinburgh Waverley station and will shortly deliver the Stirling - Alloa - Kincardine ?reopening. Work on the Airdrie - Bathgate reopening and the Glasgow Airport Rail Link is well underway, and we hope to announce shortly our plans for taking forward the reopening of the Borders rail link.
Last September the Scottish Government announced a commitment to electrification of the main Edinburgh - Glasgow line and associated routes, including a new west Edinburgh station to link with the airport. We hope to define the scope for further major railway infrastructure projects through the Strategic Transport Projects Review which we will complete this summer; this will cover road as well as rail.
We have already gone to the market for additional diesel rolling stock to support a planned enhancement of the Edinburgh - Fife - Aberdeen service, and are currently out to tender for EMUs to cover the Airdrie - Bathgate project and to provide for growth on key routes such as Glasgow - Ayr. We see this as the first tranche of an expansion and refresh of the electric passenger fleet to meet future needs such as the electrified Edinburgh - Glasgow route and to replace older EMUs. We are actively engaged with the DfT's Intercity Express Programme [developing the next-generation of long-distance trains for the UK]: we see the potential for IEP to provide some of the rolling stock required to meet Scotland's future aspirations.
How do you expect passenger and freight traffic to develop, and will you cope if passenger numbers continue to grow?
Passenger numbers in Scotland are at their highest levels since the 1960s, and over the next five years we expect to continue the progress already achieved. Substantial steps have already been made to address quality and reliability issues, including a 31% reduction in First ScotRail delays since the start of the seven-year franchise in October 2004. Infrastructure manager Network Rail is 15% ahead of target in reducing delay minutes in Scotland and 23% better than last year, with punctuality rising from 83·1% of trains arriving on time [within 5 min of advertised time, or 10 min on some longer routes] in 2004-05 to 85·8% in 2005-06.
The Scottish HLOS sets out our £3·6bn blueprint for 2009-14, focused on reducing journey times, increasing capacity and meeting rising passenger and freight demand and expectations. Our planning assumption is for 23% passenger growth by 2014, and our strategy for meeting this includes the major infrastructure and rolling stock projects already mentioned, plus incremental enhancements such as capacity improvements on the Highland main line to Inverness and the Glasgow - Kilmarnock route.
We will also work with the freight sector to facilitate its aspirations: our funding of the upgrade of the Mossend - Aberdeen - Elgin route to accept 9 ft 6 in containers is a good example of the steps we are taking to support rail freight and assist in shifting goods from road to rail.
Should growth exceed these expectations - potentially a nice problem to have! - we are confident that our relationship with our industry partners will give us the flexibility to respond in the short term and to adjust our forward plans. We have already arranged to retain the Class 314 EMUs to give an extra capacity margin rather than replace them immediately when our new trains are delivered. I am sure that there can be similar pragmatic responses to pressures that emerge over the next five years.
What is Transport Scotland's policy on future investment?
It would be wrong to anticipate the outcome of the Strategic Transport Projects Review, but it seems likely that, in the medium term at least, the scope for significant new railway extensions or reopenings will be limited, given that many of the obvious gaps in the Scottish railway map will have been filled.
We shall probably focus attention on strategic interventions in the existing network, where these could offer significant capacity or journey-time benefits. For example, just as capacity at Edinburgh Waverley station was a major spur to the enhancements that have recently been completed there, we expect to have to address emerging capacity issues at both of Glasgow's terminal stations over the next decade. Part of the solution is likely to be investment to allow the rerouting of more services to the low-level platforms at these stations.
Do you see a role for further electrification?
We have always recognised the potential of electrification, partly because key routes - most of the Glasgow network, and both of the main lines to England - are already wired. This creates major opportunities for synergy and better fleet utilisation. The recent completion of catenary over all four tracks through the Mound tunnels at Edinburgh was an important step forward, both in preparation for the Airdrie - Bathgate project but more immediately in offering greater flexibility to reduce conflicts at the station throat.
Technically, we also consider that electrification offers significant advantages, particularly in response to the growing challenge of climate change and concerns about future energy security.
The Strathclyde Class 334 EMUs were the first trains in Scotland to use 25 kV AC regenerative braking. In terms of overall fuel efficiency, recapturing energy will become increasingly important, as will the weight advantage of electric traction over self-powered alternatives. And while of course carbon forms part of the present electricity generation mix, the Scottish Government's commitment to renewables, taken together with the variety of generation sources already available in Scotland, offers a greater and potentially greener range of supply sources than reliance on a single traction fuel or as-yet unproven replacements.
"The question is not whether to electrify, but how far it should extend"
So for us in Transport Scotland the question is not whether to electrify, but how far it should extend. As the scale of the electric network grows, the business case for further marginal extensions is apt to improve. I am personally confident that the electrification of the Edinburgh - Glasgow route will be just a starting point, and that it will provide the basis for a rolling programme that will see more of the Scottish network electrified over the coming decade, and the majority of rail passenger journeys in Scotland made on electric trains.
---
MAJOR PROJECTS
The Scottish Government has provided funding for six major rail projects totalling £1·5bn:
Completed
Larkhall - Milngavie £35m reinstatement of 4·7 km of closed line from Hamilton Central to Larkhall, and a 1·6 km extension of Glasgow's Northern Suburban Line from Maryhill to Anniesland.
Edinburgh Waverley £150m upgrade of Edinburgh's main station, including four new platforms and remodelling of tracks and signalling to increase capacity.
To be completed shortly
Stirling - Alloa - Kincardine Reopening 21 km of track will provide passenger services from Alloa to Stirling and freight services to Longannet power station from summer 2008.
In progress
Borders railway Transport Scotland is currently undertaking due diligence before taking over management of the project. It will make a £115m contribution to the expected £174m cost of reopening 47 km of the Waverley route, now planned for the end of 2011.
Glasgow Airport Rail Link 2 km of new railway will enable a fast service from Glasgow Central station to the airport. SPT and Network Rail are currently revising the programme in light of the decision to combine work on GARL with necessary signalling work on the Paisley Corridor and are expected to produce a new programme for the work in the near future.
Airdrie - Bathgate Transport Scotland has committed up to £299·7m to fund the reinstatement of 24 km of track and upgrading existing lines to create another Edinburgh - Glasgow route by December 2010.
Future projects
Edinburgh - Glasgow Route upgrading proposed, with costs in the range £0·5bn to £1bn depending on detailed design work.
---
The ScotRail franchise
The Scottish Government (at the time known as the Scottish Executive) was heavily involved in the specification of the current ScotRail franchise, although the letting of the contract to successful bidder FirstGroup was carried out by the Strategic Rail Authority in 2004.
The contract covers 98% of Scotland's rail services and will cost around £1·9bn at 2004 prices over the seven-year term, with £292·5m in subsidies paid this year. An additional £200m will be collected as fares.
Following the Railways Act 2005 Scottish Ministers became party to the current franchise, and have the power to specify, let and manage future ScotRail franchises.