Thalys International's Chief Executive Jean-Michel Dancoisne explains how capacity constraints and cross-border regulatory inconsistency risk making his job anything but a dream.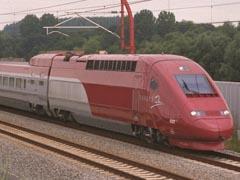 Following a long period of relative stability since the launch of Thalys services in 1996, the next three years will see a series of infrastructure improvements that are intended to reduce journey times dramatically and further improve Thalys' competitive position against the airlines by bringing Paris to within 3 h 15 min of Amsterdam and Köln.
But Thalys Chief Executive Jean-Michel Dancoisne was quick to point out to delegates at the IT08.rail conference in Zürich on January 25 (p183) that, far from providing a long-awaited panacea, the new infrastructure risks replacing the current complexities with a different, but no less tricky, set of challenges.
Part of Dancoisne's frustration stems from the delays in opening high speed lines between Liège and Aachen and Brussels and Amsterdam. 'It will be nearly another two years before we are able to feel the full benefits of these lines by bringing Köln and Amsterdam well within four hours of Paris - it should not have taken so long!'
He looks back with fondness to his own career at SNCF, when the opening of the Paris - Lyon line in 1981 ushered in the modern era of European high speed rail. Dancoisne believes that the key to the success of France's high speed network has been its separation from much of the conventional railway, and the use of a common fleet of high speed trains with similar performance characteristics.
'What we will see in the coming years is akin to a dish of spaghetti!' he warns. In particular, he is concerned by the risk of diluting the benefits of high speed rail by increasing the number of interfaces with the conventional network and mixing different types of rolling stock.
By way of example, Dancoisne points to pathing constraints imposed by the need to serve the existing station at Rotterdam Centraal even after the opening of HSL-Zuid. He is also concerned that capacity could be eaten up by the lower maximum speed but more rapid acceleration of the AnsaldoBreda Albatross trains that NS Hispeed has ordered for its own Brussels - Amsterdam services.
Five year plan
But Dancoisne's greatest worry stems from the need to plan for international services that must fit around performance regimes, regional traffic and engineering possessions that are all still organised within individual countries. He is particularly critical of daytime maintenance blockades that restrict the potential to offer a regular-interval service. 'For us, a possession in France is also in effect a possession in Belgium, the Netherlands and Germany too.'
Added to that is a continued need to meet punctuality targets that apply on a national basis, which can cause problems both in terms of financial penalties incurred and day-to-day pathing of Thalys trains around domestic traffic.
Dancoisne believes that stronger regulation on an international level is essential to ensure that cross-border services are enshrined in national planning and regulatory frameworks, but he fears that this will only complicate the already-lengthy planning process.
'I must balance my interest today and my interest tomorrow. I am aiming for punctuality and reliability today, but I must also plan for market demand in five years' time', he says, bemoaning the lead-times that mean he is already required to plot Thalys trains for 2012. 'How can I be expected to know what the market will support in five years' time?' he asked delegates, adding that simulation tools and planning software were at least some help in answering the long-term questions posed by infrastructure managers.
'The future could be a nightmare, or it could be a mirage, but either way I am issuing an SOS - save our slots!'