Due to open this month, the Thanlwin River bridge will help to complete a missing link in Myanmar's rail network. Despite international isolation, the railway continues to expand, reports Dieter Hettler, a mechanical engineer who has been involved with the delivery of diesel locomotives to Myanma Railways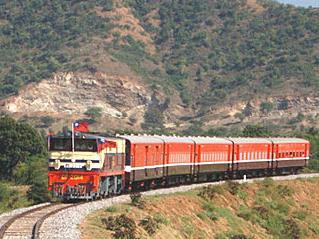 EVEN THOUGH many areas of Myanmar still lack basic infrastructure, Myanma Railways has a growing metre-gauge network that now links most of the country's main cities.
This month, the Ministry of Construction expects to open to road traffic a 3223m bridge over the Thanlwin River between Moktama and Mawlamyine. Plans call for rails to be installed across the bridge in the future, to link the isolated line south of Mawlamyine with the national network. This is part of a long process of continued railway expansion; the next section to be completed will be a 5·4 km line from Okkphosu to Thanlyin University, which is scheduled to open this year.
As with the line south of Mawlamyine, many of the new routes (Table I) have been initially built as isolated lines, essentially for political reasons. This allows a service to be provided in a particular area without having to wait for links to the national network to be completed. As the roads are poor, the rolling stock and locos, often only one per section, are dismantled for delivery.
It will be some time before the 133·5 km gap between Banyin and Moe-Ne in the east is filled; the current proposals will require four reversals to cross the valley of the Nantpon River near Puyasan. Work is underway on an 8 km extension of the Kyaukpadaung - Kyini line to Chauk on the Ayeyarwady River.
To the northwest, the missing 41·8 km section of the Kalay line between Kyaw and Yemyetni will need some substantial engineering works, including two double reversals. Several tunnels will be required including one of about 1·8 km. To bring forward the opening, a 21 km longer temporary line is being built to avoid this tunnel, which will be finished later.
Historically, the network has changed significantly. In 1942 Burma had 3313 route-km of metre-gauge track, but during World War Two the Japanese removed about 480 km. By the end of the conflict only 1085 route-km was operational, in four isolated sections.
By 1961 the network extended 3020 km, and then remained constant until the opening of a 36 km line from Kyaukpadaung to Kyini in October 1970. This marked the start of a construction and track-doubling boom, and by 2000 MR operated 5068 track-km divided into 11 operating divisions.
Updating the fleet
The state-owned Myanma Railways was established on April 1 1989 to succeed the former Burma Railways Corp. In 1999 MR had 201 diesel locomotives, and a further 88 were on order. Up to 1987 the main suppliers were Alsthom, Krupp and various Japanese companies, but since then orders have been placed with China owing to Myanmar's lack of access to hard currency. An exception was a 2000 barter deal in which rice was exchanged for 10 Alco YDM4 Co-Co locomotives made surplus by the regauging of metre-gauge lines in India.
On July 27 this year Rail Transportation Minister U Aung Min visited India, where he signed a Memorandum of Understanding with Minister of State for Railways R Velu under which India will provide a line of credit worth US$56·4m and Rites will supply rolling stock, spares and machinery to MR for upgrading the Yangon - Mandalay line. The package includes 10 diesel locos of 1350 hp, 48 coaches and spares, worth US$28m.
MR has approximately 40 oil-fired steam locomotives, of which about a dozen are serviceable and see occasional use on goods, local passenger and tourist trains. Up to three heavy repairs are performed per year using locally-manufactured parts, and the high cost of importing diesel loco spares means that steam will survive for a few years yet.
In 1999 MR had 868 coaches, with a further 463 on order. However many branch lines have only lightly-built permanent way, and on these routes traffic is in the hands of a fleet of more than 50 light railbuses built from lorry parts in MR's workshops. These are powered through their rubber-tyred road wheels, and usually haul three small four-wheel coaches converted from goods wagons. Small turntables are used to turn the railbuses at the termini.
There were 5187 freight wagons in 1999, with 1188 due to be delivered. The majority of goods trains on lines without significant gradients run without any train brakes, as most of the serviceable wagons have been cannibalised and now lack vacuum hoses. Goods trains up to 600 tonnes are braked by the locomotive only, and operate at a maximum speed of 32 km/h. If the train is particularly heavy the wagons at the front will be fitted with hoses for the duration of the trip. On the steeply-graded ghat sections all wagons will be braked.
In readiness for the completion of any future rail links to Thailand, AAR-standard couplers and air brakes are being fitted to all new stock, and some express passenger trains have been equipped since 1997. The effect on day-to-day operations of having two incompatible couplers in use remains to be seen, but having two brake systems seem less critical; the two systems depend on the type of coupler and hence will not run in the same train. For shunting purposes a coupler-adapter or a wagon fitted with both systems may be feasible, but within whole trains only one system will be the rule.
Double tracking programme
Except for one short section in central Yangon which is shared with the line to Pyay, the 45·9 km Yangon Circular railway is now double track and segregated from the main line. The Yangon - Mandalay main line is double track apart from 237 km between Kyitaunggan and Myohaung. Double-tracking and upgrading for 56 km/h is in progress between Paleik and Kyaukse, apart from the Myitnge River bridge.
At present only 28·2 km of the Yangon - Pyay route is double track, with the most recent addition being a 8·4 km stretch opened on December 1 1997.
The lines from Thazi to Shwenyaung and Mandalay to Lashio both have 1 in 25 gradients and four reversing points, limiting trains to about 235 tonnes. A noteworthy feature of the Lashio line is the 689m long Gokteik viaduct, built in 1900-03 and 97·6m above ground level. There is an 'emergency route' to the valley floor featuring spectacular horseshoe curves, built in 1976-78 because of a fear that insurgents might attempt to destroy the bridge. This diversionary route is limited to 140 tonne trains and has never seen any real use, despite monthly test runs until about 1987 to keep it clear. The connecting pointwork was removed in the early 1990s, later reinstated to allow special trains to run to prevent the route becoming overgrown, but since 2002 nature has taken over.
Picture caption: TOP: The DF class diesel locos supplied by Alsthom in 1987 are the workhorses of the MR network; DF2002 calls at Lebyin on the Shwenyaung Ghat section
Picture caption: Light railbus LRB51, seen at Pyuntaza (left) is one of a series built by MR from lorry parts for use on lightly-built branch lines. Completed in 2001, DMU301 (right) was assembled jointly by the Ywataung diesel loco works and the carriage and wagon plant at Myitnge
Picture caption: Still used to haul special trains on the Madauk section, MRPacific YC627 was built by Vulcan Foundry of the UK in 1948
Railway openings in Myanmar 1988 - 2004
Year Route Length, km Notes
1988 Thaton - Myaingalay 36·3 New branch
1989 Dabein - Hle Lawin 34·6 New branch
1990 Mandalay Circular Railway 21·8 Part later dismantled
1992 Shwenyaung - Yatsauk 60·3 New
1992 Tada-U - Myingyan 99·8 Reinstated after closure c1944
1993 Aungban - Loikaw 164 Connection to the Kayah State capital; gradients between 1 in 25 and 1 in 17
Togyaunggale - Okkphosu 13·6 New line to deep-sea port under construction near Thanlyin
Chaung-U - Tawkyaungyi 23·4 } First parts of 406·3 km Chaung-U - Pakhokku - Kalay line . Section west of
Minywa - Pakhokku 54 } Chindwin River isolated, as bridge not completed until 2004 (see below)
1994 Tada-U - Mandalay International Airport 11·8
Pakhokku - Myaing - Myozoe 55·7 }
1995 Myozoe - Zipyar 44·2 } Further sections of Chaung-U - Kalay line, leaving a 270 km gap
Natchaung - Kalay 22·7 }
Namsang - Moe-Ne 44·3 First isolated section of eastern extension of Thazi - Shwenyaung line
Dawai - Yephu 17·2 Isolated section of 177 km Mawlamyine - Yai - Dawai line. Gradients of 1 in 25
1996 Gangaw - Natchaung 110·8 Linked to isolated northern section of Kalay line; opening ceremony February 6
Myitkyina - Nantpaung Airport 11·7
Taunggyi - Phamon - Banyin 54·3 Isolated
Myingyan Junction - Bagan 56·1 Serves one of the most important tourist sights in Myanmar
Yai - Kaloggyi 4·4 Extension of line from Mawlamyine towards Dawai
1997 Kyaukpadaung Junction - Bagan 48·1 Creating a new circular route
Zipyar - Kyay 50·6 Extension towards Kalay
Pyay - Myade/Aunglan - Satthwa 145·4 Alternative route to Bagan, but heavy grades, sharp curves and danger of washouts mean the line is only used by two trains/week
Shwenyaung - Taunggyi 33·5 Connecting with the formerly isolated Banyin line. Owing to the poor and steep route and a good competing road, the army-built line is used for goods only
1998 Kaloggyi - Yephu 141·6 Closing the last gap of the Dawai line
1999 Taungdwingyi - Magway 83·8 New branch to serve town on Ayeyarwady River
Tada-U - Mandalay International Airport 6·1 Extension of branch opened in 1994
Sin Phyu Shin Bridge approach 7 Approaches to future bridge over Chindwin River near Chaung-U, opened 2004
2000 Ye-U - Khin-U 25·7 Final section of loop line northwest of Mandalay opened April 9 2000. Line has 270 bridges, including 23-span Mu River road and rail bridge
2003 Okkphosu - Thilawa Deep Sea Port 14·8
2004 Sin Phyu Shin Bridge (over Chindwin River) 1·5 Trains from Mandalay now run through as far as Pakhokku