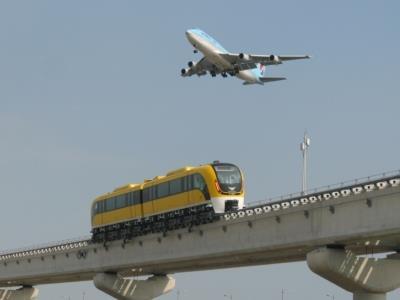 SOUTH KOREA: The Incheon Airport maglev demonstration line was unveiled with a ceremonial run on May 14. Passenger service is due to begin in mid-July on the first domestically-developed urban maglev line.
The 6·1 km route with six stations links Incheon International Airport with Yongyu. The Ministry of Land, Infrastructure & Transportation launched the Urban Maglev Programme in 2006, with Korea Institute of Machinery & Materials undertaking R&D work. A groundbreaking ceremony was held in August 2010 and the line was built at a cost of 260bn won.
Four trains built by Hyundai Rotem have been certified for passenger service. They will run with a maximum operating speed of 110 km/h.
KIMM President Im Yong-Taek said that metro Line 2 in Daejeon, in the centre of the country, would use maglev technology. Passenger service on the 36 km route with 30 stations is due to start in 2020 with forecast ridership of 13 000 passengers/day.
Hyundai Rotem Vice Chairman and CEO Han Kyu-Hwan added that Hyundai Rotem plans to develop maglev lines in St Petersburg and Jakarta.