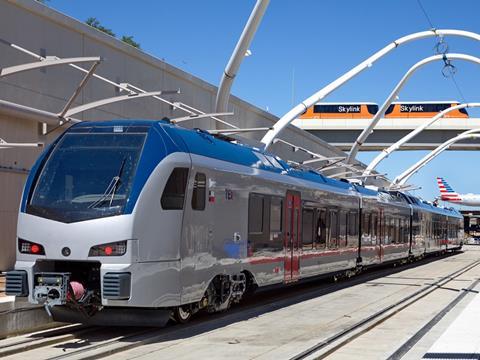 USA: The opening of the 43 km TEX Rail commuter line in Texas was postponed the evening before the planned January 5 launch date, with transport authority Trinity Metro saying it had been unable to get clearance from the Federal Railroad Administration to operate the entire route.
A new opening date is to be announced 'as soon as we obtain full clearance from the FRA', Trinity Metro said.
The TEX Rail line will link Fort Worth with Dallas/Fort Worth International Airport, using a combination of upgraded freight railways and a newly-built alignment into the airport. Services are to be operated using a fleet of eight Stadler Flirt diesel multiple-units.
The approvals process for the line and communications between Trinity Metro and the FRA have been delayed by the ongoing shutdown of the federal government.
As of January 4, FRA had not yet granted permission for the use of a short section of new track which will enable TEX Rail trains to reach central Fort Worth. Trinity Metro considered opening the rest of the route on the scheduled date, but FRA inspectors raised further concerns and it became clear this would not be possible.
'We're just really disappointed', Trinity Metro president Paul Ballard told local media.