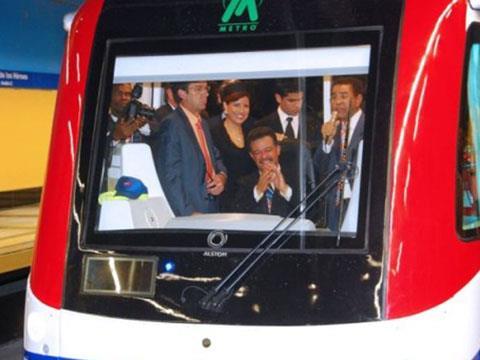 DOMINICAN REPUBLIC: President Leonel Fernández joined representatives of the government and local businesses to ride a ceremonial 'first train' on the Santo Domingo Metro on February 27.
After his independence day address to the national assembly, President Fernández walked to Centro de los Héroes metro station to board one of the 19 three-car trains being supplied by Alstom.
Following a blessing by Cardinal Nicolas de Jesus Lopez Rodriguez, the inaugural train ran non-stop the length of the 14 km line to Mamá Tingó terminus, before returning to Hermanas Mirabal for a reception where Diandino Peña, Director of national transport agency OPRET, told the local media that revenue services will begin 'before the end of 2008'.
Work is still underway to complete the metro, but the President had made a commitment in 2007 to ride the line on independence day. The 16 stations are named after famous people, rather than geographical locations.