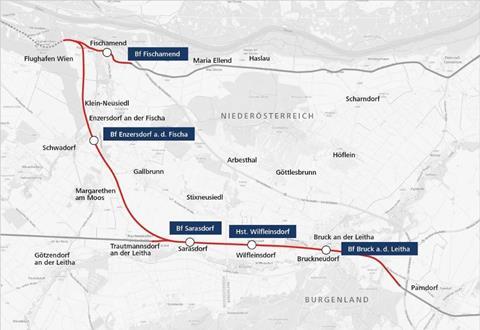 AUSTRIA: ÖBB Infrastruktur presented a final set of plans on July 15 for a 26 km long link from Bruck an der Leitha southeast of the capital to Wien airport. This would enable more long-distance and regional trains to serve the air hub.
The double-track route would diverge from the existing airport line east of Wien Flughafen station, turning southeast to continue as far as Sarasdorf on the Wien – Hegyeshalom main line. From there, a second pair of tracks would be added to create a four-track route to Bruck an der Leitha. A station would be built at Enzersdorf an der Fischa.
The link would allow Railjet inter-city, cross-border and inter-regional trains that link Wien with destinations in Burgenland, and with Bratislava and Budapest, to serve the airport.
The €1·7bn construction phase is planned to be undertaken between 2026 and 2032, €285·6m of which is to be allocated between 2023 and 2028.
The infrastructure manager started pre-feasibility studies into the link as long ago as 2015, and outline planning permission was granted by the affected local authorities in autumn 2021. ÖBB Infra is currently holding public consultation sessions for local residents along the proposed route.