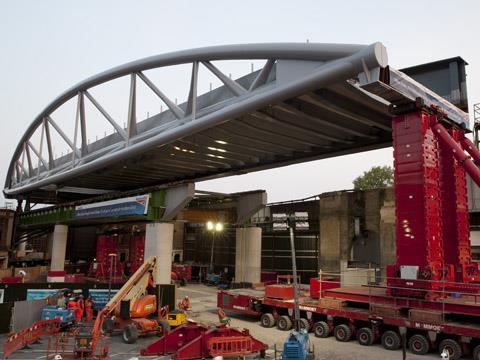 UK: A steel bridge 71 m long and weighing 1 200 tonnes was positioned across Borough High Street in central London on April 29-May 1. It forms part of a 507 m viaduct being built to remove a major rail bottleneck at the west end of London Bridge station.
Network Rail said finding space has been a challenge, and in some places the viaduct is just 160 mm from existing buildings. 'A project of this scale taking place in such a heavily built-up area required outstanding planning and innovation', said Project Director Martin Jurkowski. 'Our solution was to build the new bridge on top of the new viaduct, which offered best value for money and minimal disruption'.
A complicated operation saw the bridge moved an average of 7 mm/sec using specialist machinery before being lowered into place.
The bridge is a significant local landmark and a vintage double-decker bus was positioned to allow local people to observe the works.
The £59m viaduct is being built as part of the Thameslink Programme to upgrade the north-south commuter route through central London. The main contractor for the viaduct is Skanska, and the bridge was supplied by Watson Steel.