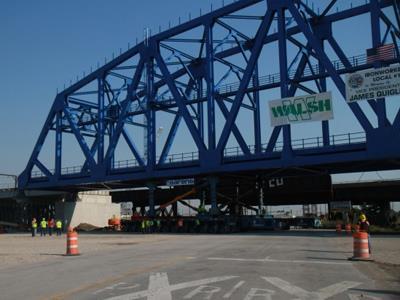 USA: A 120 m long bridge installed on August 25 is claimed by the Chicago Department of Transportation to be the largest truss bridge span ever to be moved into place following off-site assembly.
General contractor Walsh Construction used four self-propelled mobile transporters to move the fully-assembled 1 950 tonne span from its nearby assembly site.
The bridge is one of six road, rail and foot bridges being built as part of a $101m grade-separation project to improve road and rail traffic flows at the complicated intersection of 130th Street and Torrence Avenue under the 'Building a New Chicago' infrastructure programme.
It also forms a part of the CREATE programme to improve the efficiency of rail operations in the Chicago region. CREATE is being undertaken through a partnership between the city of Chicago, state of Illinois, US Department of Transportation, freight railways and passenger operators Metra and Amtrak.
The new bridge will carry South Shore Line commuter services and freight over Norfolk Southern tracks. In addition, 130th Street and Torrence Avenue are being lowered to pass under new rail bridges which will eliminate level crossings on the NS freight lines.