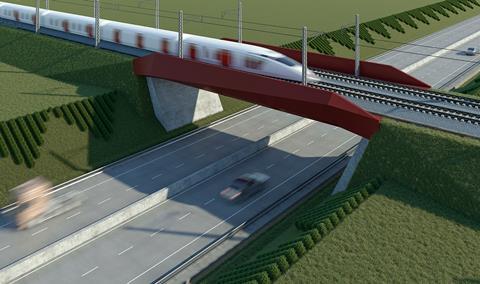 EUROPE: A grant agreement which will see the EU's Connecting Europe Facility provide €353·9m for the Rail Baltica project has been signed by the European Climate, Infrastructure & Environment Executive Agency, ministries from the three countries and tri-national implementation agency RB Rail.
This will fund the completion of main line design work between the Polish border, Kaunas and Vilnius, as well as compensation for land expropriation; the start of construction on the priority section in Latvia near the Lithuania border and development of detailed technical design for the construction base in Skulte; construction in Estonia, including capercaillie mitigation measures; and activities to ensure technical interoperability.
It is the eighth CEF Action supporting implementation of Rail Baltica, and the first in the 2021-27 financing period.
'We live in times of increased economic uncertainty resulting from geopolitical crisis, continuous price fluctuations and volatile construction material availability, and it is more important than ever to ensure tight cross-border cooperation between the partners in the three Baltic countries to deliver the Rail Baltica and maintain its position amongst the top priority high-speed infrastructure projects in the European Union', said RB Rail CEO Agnis Driksna on October 21.