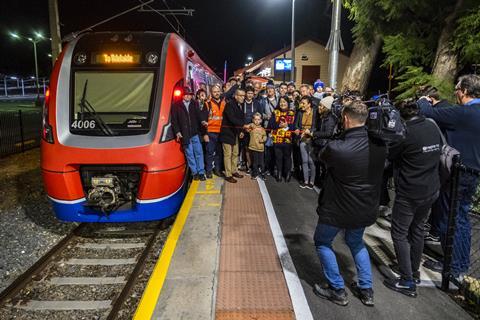 AUSTRALIA: Electric suburban services between Adelaide and Gawler were launched in June 12, following the completion of a long-delayed electrification programme.
Ceremonies were held at both ends of the line. Local MP Tony Piccolo cut a ribbon at Gawler Central before joining the first electric train to Adelaide at 06.25. A couple of hours later, South Australia's recently elected Minister for Infrastructure & Transport Tom Koutsantonis cut another ribbon at Adelaide station before travelling to Gawler. Free travel was offered during the first day of electric services, which took place during a public holiday weekend.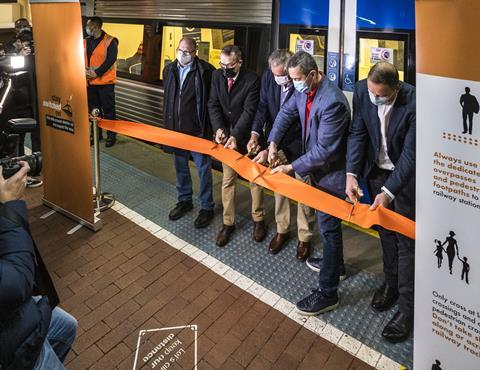 'Today is an historic and exciting day for northern suburbs commuters, as we finally see passenger trains returning to the Gawler rail line', said Koutsantonis. 'It's been a long wait, but from today commuters can enjoy a more modern and a smoother ride. I look forward seeing you back on the train.'
The 40 km Adelaide – Gawler line was originally scheduled to be electrified at 25 kV 50 Hz by 2013 under a 2009 programme to wire the entire 1 600 mm gauge suburban network. However, that programme was halted after only the southern route to Noarlunga and Seaford had been completed. In January 2018 the South Australian government selected Lendlease (later Acciona) to restart the Gawler electrification, putting the estimated cost at around A$615m. A further 12 three-car A-City EMUs were ordered from Bombardier Transportation in June 2019 for delivery by the end of 2021, taking the fleet to 34 sets. Services on the route were suspended for a month from December 26 2020 to facilitate final completion, but the blockade eventually lasted for 535 days.
Electric services are operated by Keolis Downer as part of an eight-year contract awarded in December 2020 to run the Adelaide suburban network. Journey time for the 40 km trip with 25 intermediate stops is around 60 min. For much of the day the line has 4 trains/h offering a slightly faster skip-stop pattern, with two trains running to Gawler Central and two terminating at Gawler.
KDR CEO David Franks commented that it was 'great to see the line reopened', noting how much work staff at Keolis Downer Adelaide had put into preparing for the start of electric services.