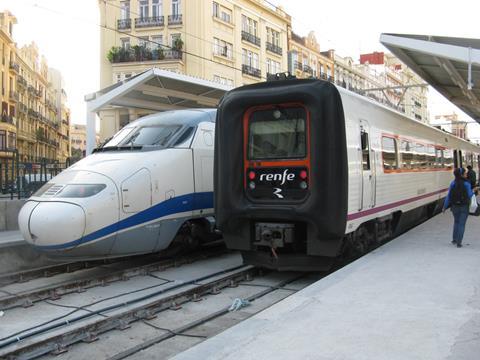 SPAIN: Infrastructure manager ADIF has awarded a consortium of Bombardier Transportation and Thales a €44m contract to supply signalling for the second phase of the Mediterranean Corridor upgrade programme, covering the Almussafes – Valencia – Castelló de la Plana route.
Bombardier's €27m share of the contract includes the supply of Interflo 200 train control technology with EBI Lock 950 computer-based interlockings, EBI Track train detection, associated telecoms and hot box detectors. Installation is scheduled to take 15 months and the contract includes 24 months of maintenance.
In July 2013 a Bombardier-Dimetronic consortium was awarded a €73·4m contract covering the first phase of the project between Castellbisbal and Tarragona.
The project to upgrade the Mediterranean Corridor aims to improve connections between Spanish ports and European freight routes, and includes the provision of 1 435 mm gauge.
A joint venture of Amurrio Ferrocarril y Equipos, Felguera Melt, Jez Sistemas Ferroviarios and Talleres Alegría has been awarded a €56m contract to supply dual-gauge pointwork for the Mediterranean Corridor, while Prefabricados y Contratas, Drace Infraestructuras, GIC Fabricas and Traviesas del Norte are to supply 273 608 sleepers for the Valencia – Vandellòs and Vilaseca – Castellbisbal sections under a separate contract worth €36·4m.