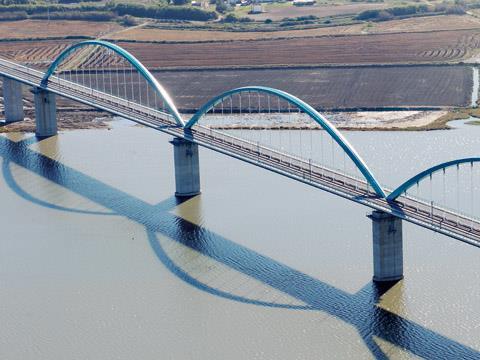 PORTUGAL: Trains began using the Alcácer Bypass across the Sado River in December, completing what infrastructure manager Refer describes as 'the most important investment in the network in recent years'.
The 29 km bypass cuts 6·7 km from the South Line from Lisboa towards the Algarve. It is intended to reinforce the competitiveness of the port of Sines by allowing 25 tonne axleloads, and makes passenger trains more competitive by allowing running at 200 km/h, or 220 km/h with tilt, cutting 10 min from journey times.
The single track line is equipped with gauge convertible concrete sleepers, and the infrastructure makes provision for future doubling. Dimetronic and Bombardier supplied signalling and control equipment, and video surveillance enables monitoring and intervention in any incidents.
Part of the route lies within the Sado Estuary nature reserve, which meant construction had to be planned around bird nesting periods. Care was taken to ensure the railway does not form a barrier to wildlife, with underpasses provided and close monitoring of the impact.
The total cost of €159m was co-financed with EU cohesion funds.