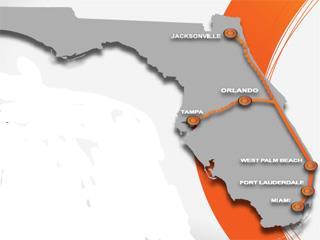 USA: Florida East Coast Industries has appointed architects to plan the stations for its proposed 'All Aboard Florida' inter-city service between Miami and Orlando.
The $1bn plan for a privately-owned, operated and maintained passenger service using FECI lines and new construction was announced in March, with a target launch date of 2014.
Skidmore, Owings & Merrill has been named as lead architect and planner to develop initial concepts for stations and associated transit-oriented developments in Miami, Fort Lauderdale, West Palm Beach and Orlando. Zyscovich Architects is associate architect and planner.
SOM has experience of metro, rail, ferry and airport terminal projects, including the design of a redeveloped Denver Union station with retail, commercial and office space.
'SOM is renowned for its inspiring, award-winning design, strong track record of fostering public consensus, and ability to translate infrastructure investment into regional benefits', said Vincent Signorello, President of Florida East Coast Industries.
Zyscovich Architects has extensive experience in Florida, having undertaken projects including a rail corridor strategic redevelopment plan for the City of Miami.