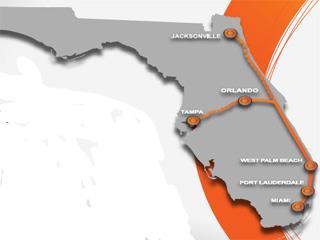 USA: Private inter-city service promoter All Aboard Florida has selected GE Transportation to supply signalling equipment for the 375 km corridor it plans to use between Miami and Orlando.
GE Transportation said its sites in Melbourne and Jacksonville, Florida, would lead the design and engineering, with manufacturing in Warrensburg, Missouri.
What AAF says will be 'the first privately owned and operated project of its kind in the USA' is scheduled to launch services between Miami and West Palm Beach in late 2016.
The line would be equipped with Positive Train Control. 'This project introduces advanced communications and engineering improvements in an existing rail corridor that wouldn't be possible without the investment from this project,' said AAF President Mike Reininger. 'It's significant that we're awarding our first major infrastructure contract for the project to GE. It should attest to how highly we prioritise safety in the corridor.'
Announcing the 'firm contract' with GE on April 15, AAF said construction of the stations at Fort Lauderdale, West Palm Beach, MiamiCentral and Orlando airport has now begun.