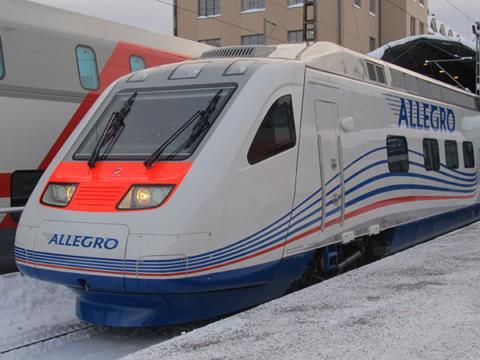 EUROPE: Helsinki - St Petersburg passenger services were relaunched with the December 12 timetable change, with journey times cut by 2 h to 3½ h following the introduction of Alstom dual-voltage New Pendolino tilting trainsets, infrastructure upgrades to permit running at 220 km/h in Finland and 200 km/h in Russia, and border formalities being undertaken on the move.
Infrastructure work to be completed in 2011 will cut another 30 min from the end-to-end timings.
The upgraded service is operated jointly by Russian Railways and its Finnish counterpart VR under the 'Allegro' brand, replacing their daily Sibelius and Repin locomotive hauled trains. The Tolstoi overnight service from Helsinki to Moscow has been retained.
Finnish President Tarja Halonen joined RZD President Vladimir Yakunin on the inaugural departure from Helsinki at 12.15 on December 12, and public services followed with the 15.00 train.
The initial two daily return services will increase to four in May 2011. Traffic is expected to reach 250 000 passengers in 2011, and the operators aim to triple traffic within 10 years.
Tickets are priced below air fares, and the train avoids the inconvenience of St Petersburg airport. RZD and the Finnish authorities are keen to persuade the Russian government to waive the expensive visa requirements for short trips to the former imperial capital, which they believe would then become a popular and lucrative destination for city breaks
In addition to the four Pendolino trains ordered by the Karelian Trains joint venture of RZD and VR, the project has involved infrastructure upgrades on both sides of the border. Read the full story in the January 2011 issue of Railway Gazette International