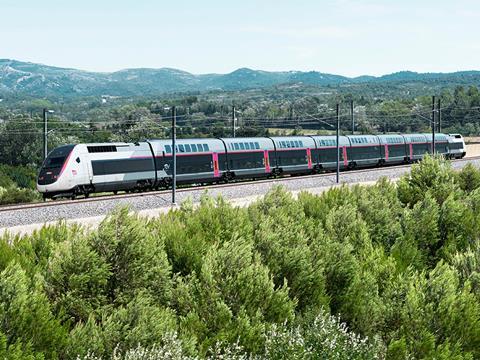 FRANCE: SNCF Réseau has awarded a framework contract to Alstom for the development, installation and maintenance of ERTMS equipment on LGV Sud-Est between Paris and Lyon.
Valued at €52·5m, the contract announced on September 25 was awarded following a negotiated procedure and a prior call for competition. Alstom will be responsible for design, manufacturing, installation and maintenance of the Atlas ETCS Level 2 equipment, while Setec Ferroviaire will handle the design verification, project management and testing.
The installation of ETCS Level 2 and GSM-R to replace the life-expired TVM300 train control system forms part of a €607m project to improve the performance of the country's oldest high speed line, which currently carries around 240 trains per day. This also requires the replacement of 37-year old interlockings and strengthening of the power supply network.
Due for completion by the end of 2024, the ETCS installation will increase the capacity of the Paris – Lyon route from 13 to 14 trains/h in each direction at peak times. Further infrastructure work including the electronic interlockings and traffic management system will lift throughput to 16 trains/h by 2030. The package is being partially funded by the European Union's Innovation & Networks Executive Agency under a €117m CEF grant announced in April 2018.
'The LGV+ Paris-Lyon project is one of the cornerstones of the high-performance rail network', said SNCF Réseau Chairman & CEO Patrick Jeantet. 'Increasing the capacity of the existing network and the quality of service of traffic is a priority for SNCF Réseau to promote rail use.'