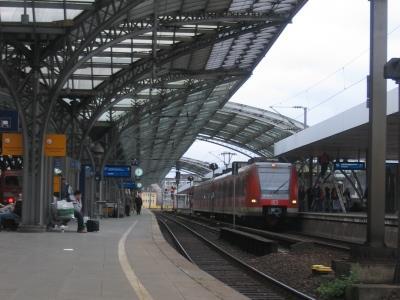 GERMANY: Federal Transport Minister Minister Dr Peter Ramsauer confirmed on January 31 that another €1bn of federal funding would be made available for infrastructure improvements across the DB network by 2015, following the completion of a three-year programme funded by a €1·4bn 'stimulus package' and €100m from DB's own resources.
Speaking in Nürnberg, Ramsauer said the stimulus package had delivered 'noticeable improvements for rail customers. 'Thanks to the federal funds, almost half of the stations in Germany have been modernised within three years. Numerous routes have been rebuilt and noise protection has been improved. These investments mean tangible improvements for passengers and make rail more attractive.' DB Chairman Dr Rüdiger Grube added that the spending had also benefited German industry, with more than 500 small and medium-sized companies involved in the works.
DB spent €325m on station enhancements, covering almost 3 000 schemes at smaller stations, including the introduction of real-time passenger information displays, new shelters, better lighting and step-free access to platforms. Many buildings have been renovated or repaired, including conservation work on several historic structures.
Another €960m was used for network improvements, of which €650m was allocated to ongoing schemes, including the Nürnberg – Erfurt and Karlsruhe – Basel corridors and the rail link to Berlin Brandenburg International Airport which opens in June. €56m was spent on the development of intermodal terminals, and €115m on enhancements to regional lines and the installation of electronic interlockings.
Around €80m of federal funding went on noise abatement work, including 88 projects to test new technology. More than 20 km of track in the Rhein valley has been fitted with rail web dampers or low-height noise protection walls. Another €100m went on modernisation of the railway's power supply network, including the construction of four new converter stations.
Explaining that the stimulus package had provided 'a big push for much-needed investment', Ramsauer pledged that work would continue 'with the same vigour' over the next few years. 'We will continue investing to improve safety and quality on the railway', he insisted, confirming that another €1bn of federal funding would be made available between now and 2015 as part of the government's financial recovery programme.
For more on DB's investment priorities, read our interview with Dr Rüdiger Grube in the January 2012 issue of Railway Gazette International - available to subscribers in our digital archive.