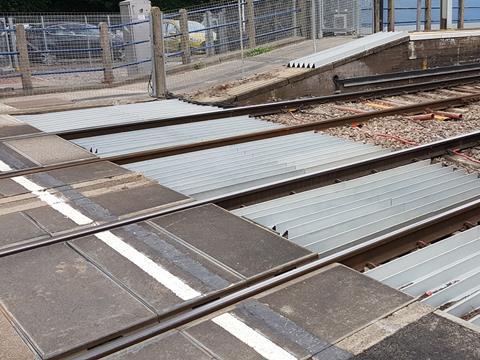 ANTI-TRESPASS: Prime Rail Solutions' GRP anti-trespass panels designed for use at level crossings, stations, bridges and other locations where an access deterrent is required have been approved for use on the ProRail network in the Netherlands and by Network Rail in the UK, and trials are to be undertaken by SŽDC in the Czech Republic and SNCF in France.
The panels can be lifted by one person and installed using a hand drill and a disc cutter, with no need for mechanical handling equipment.
They can be cut to fit around concrete edge beams, crossing panels, chain guards, barrier machines and any other obstacles, and fire-retardant versions are available for use in underground locations. The use of GRP stops weeds growing through, in contrast to wooden grids. They are supplied in lengths of 1·4 m, and a 2·8 m panel is under development as well a version which can be lifted to provide staff access to the lineside.