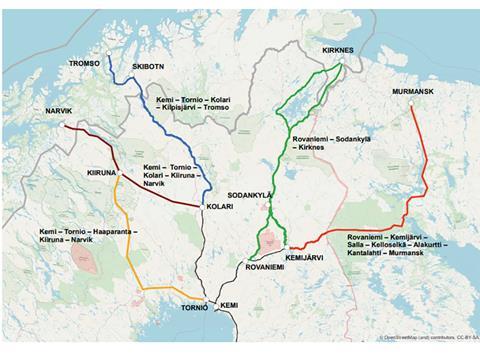 EUROPE: The construction of a railway between Finnish Lapland and the Arctic Ocean is not currently commercially viable, a joint Finnish-Norwegian working group has concluded.
Last year Finland's Ministry of Transport & Communications published a report into route options which concluded that a 465 km line from Rovaniemi to Kirkenes via Sodankylä would be the best option. The cost was estimated at €2·9bn, of which Finland would fund €2bn.
While the line would not be profitable in itself, the report suggested that it could be used to transport minerals, fish and forestry products and would be expected to bring an increase in trade in the region. It could also offer security benefits, providing Finland with an alternative to trade via the Baltic Sea.
However subsequent analysis by the working group concluded that the line would need to carry 2·4 million tonnes of freight a year to cover its maintenance costs, which was not realistic unless there were significant changes to the regional economy. In addition, indigenous Sámi had expressed concern about the potential impact on reindeer herding.