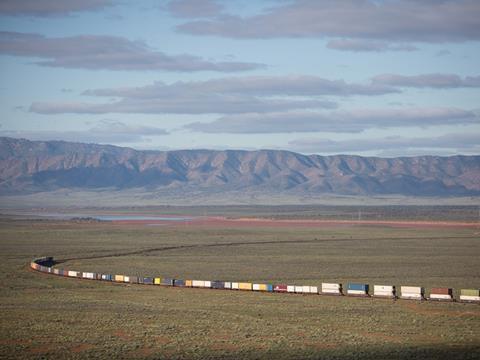 AUSTRALIA: A cross-industry oversight group is being established to assist with the introduction of the Advanced Train Management System on the 1 435 mm gauge interstate freight rail network, Deputy Prime Minister and Minister for Infrastructure, Transport & Regional Development Michael McCormack announced on May 11.
The industry-government reference group is intended to streamline the implementation process, bringing together representatives of Australian Rail Track Corp and nine major rail freight businesses.
The federal government has allocated A$110m to fund the introduction of ATMS, which has been developed for ARTC by Lockheed Martin. Using a combination of GPS location technology and mobile data communications, the system is intended to reduce need for installing and maintaining lineside signalling infrastructure, particularly in remote areas.
A pilot installation between Port August and Whyalla in South Australia is already operational, and McCormak reported that this was 'in the final stage of being certified as the primary safe working system'. Once the technology has been authorised for regular operation, it can then be deployed on other parts of the ARTC network, starting next year with the trans-Australia main line between Tarcoola and Kalgoorlie.
Under development since 2005, ATMS is expected to increase capacity, as well as reliability and safety, by enabling more efficient use of the network.
'Following discussions in March, the Australian government has agreed to support the establishment of the group to explore opportunities to accelerate the deployment of ATMS', explained McCormack. 'ATMS has been custom-engineered and tested under Australian conditions, and has proven both its safety and capability required for a staged deployment across the wider national interstate rail network'.
The oversight group will provide 'a single direct forum for engagement and agreement on the approach, roll-out, staging strategy and funding for ATMS', McCormack explained. It is expected to provide advice to government in mid-2020 about options to deliver the broader roll-out.
Pacific National CEO Dean Dalla Valle, who chairs the Freight on Rail Group that represents the nine operators involved, said 'ATMS will vastly improve rail safety by allowing freight trains to be remotely controlled during an emergency, including automatic braking. It will boost the efficiency of services on both dedicated freight lines and shared rail networks.' Recognising that 'ARTC has ensured industry was at the forefront of consultation over the 10 years of development', he added that continuing a 'collegiate approach' through the working group would help to fast-track the roll-out process.
Welcoming the announcement, Australasian Railway Association CEO Caroline Wilkie said ATMS was 'a great example of Australian rail driving innovation to find new solutions that will make our industry better', adding that 'the oversight group will bring significant industry knowledge to the table to guide this important next phase of the project.'
ARA has long supported the implementation of ATMS on the Inland Rail corridor as well as the interstate network, but Wilkie warned that it was important to acknowledge that other train management systems were in use across Australia, notably on the passenger networks in metropolitan areas. Ensuring interoperability had already been highlighted as a priority for the National Rail Action Plan, which is being led by the National Transport Commission.