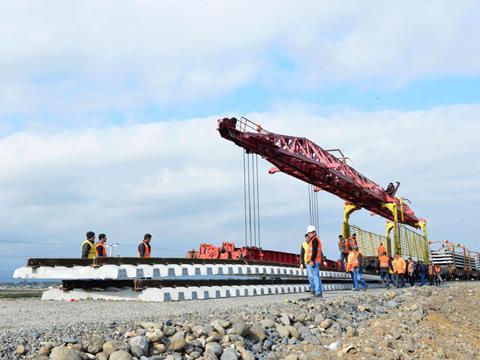 AZERBAIJAN: Tracklaying on an 8·3 km extension of the Azerbaijan Railways network from Astara station to the River Astarachay, which marks the border with Iran, was completed on November 7.
The 1 520 mm gauge line will cross the border on an 82·5 m long bridge which has been under construction since April, and then continue a further 1·7 km to the Iranian town of Astara. Here there will be transhipment facilities with a 164 km long 1 435 mm gauge line which is under construction to link Astara with the Iranian network at Rasht. This is expected to open next year, completing the north–south rail corridor from Iran's ports to Russia and Europe via the west side of the Caspian Sea.
The first direct freight service from India to Russia along the corridor ran in late September and early October, with the sea and rail journey between Mumbai and Moscow taking 23 days, including road transport for the 180 km between Rasht and Azerbaijan.