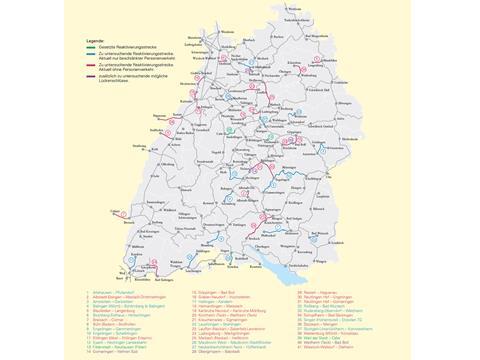 GERMANY: The Land of Baden-Württemberg has commissioned a detailed comparative study of the cost and feasibility of reintroducing passenger services on 41 routes, following an initial investigation which looked at 75 closed or freight-only lines.
The study is to be completed by the end of 2020, and aims to produce a list of around 15 lines for possible reopening.
Funding for reinstatement and operations would be provided by the municipalities served, with the Land supporting enhancements such as extensions and electrification and subsidising the transport of school pupils. As an incentive to the local authorities, the Land would also fund operations on the first 100 km of lines to be reopened.
The Land's Ministry of Transport said reopenings such as Radolfzell – Stockach and Böblingen – Dettenhausen in 1996 and Tübingen – Herrenberg in 1999 had proved more successful than predicted. 'Many of the routes closed between 1960 and 1990 have a high passenger potential today', explained Minister Winfried Hermann on April 29.