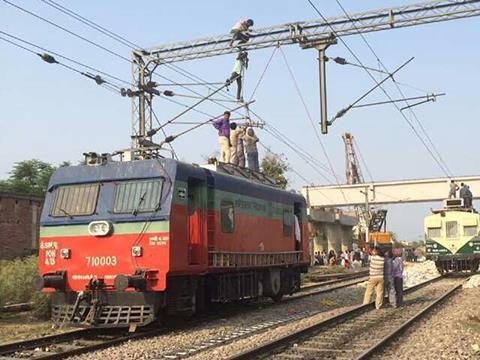 INDIA: Electric operation has been inaugurated on South Western Railway's 178 km Yelahanka – Dharmavaram line, the Ministry of Railways announced on July 14.
SWR has the lowest proportion of electrified lines among India's zonal railways, but work has been underway for some years to wire key routes in Karnataka radiating from Bangalore, including the 139 km line to Mysore, which is due to be completed by the end of this year.
Rail Vikas Nigam Ltd began work in 2011-12 to electrify the 306 km route running north from Yelahanka on the outskirts of Bangalore to Dharmavaram and Gooty in Andhra Pradesh. This line is used by the Karnataka, Rajdhani and Sampark Kranthi expresses between Bangalore and Delhi, which up to now have been diesel hauled south of Secunderabad.
RNVL originally envisaged that the Rs1·9bn electrification would be completed by March 2015, as part of a programme covering more than 6 000 route-km. Much of the 25 kV 50 Hz wiring had been installed by 2014, but the commissioning had to be delayed pending improvements to the electric transmission networks in both states. Electrification of the northern section between Gooty and Dharmavaram was completed in April, and test running with electric locos on the Yelaganka section began in June.
Last year, Minister of State for Railways Manoj Sinha approved proposals for double-tracking the 121 km between Yelahanka and Penukonda at an estimated cost of Rs98bn. Work was expected to begin in October for completion in around three years. According to SWR officials, the single-track line is currently carrying 22 trains each way per day.