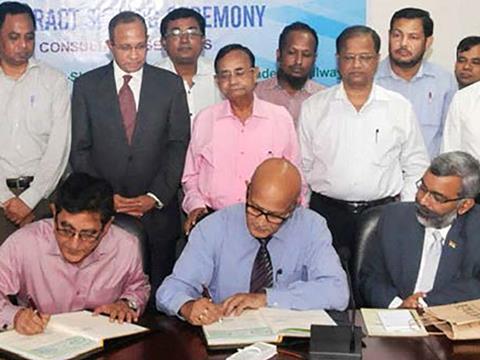 BANGLADESH: Bangladesh Railway has awarded Indian company Balaji Railroad Systems Ltd a Rs200m contract to provide detailed design and construction supervision services for the rehabilitation of the out-of-use line from Kulaura to Shahbazpur, close to the Indian border. The 51·3 km metre-gauge route is expected to reopen for passenger and traffic in 2017.
The contract signed in Dhaka on August 13 runs for 30 months and is the largest which BARSYL has won in almost 10 years of work with BR.
Rehabilitation of the line is being financed using a Rs5·75bn line of credit from the Indian government. The line will remain metre gauge, but the embankments and bridges will be suitable for the installation of 1 676 mm gauge track in case the proposed reinstatement of the link from Shahbazpur to the Indian Railways broad gauge network at Mahishasan goes ahead.