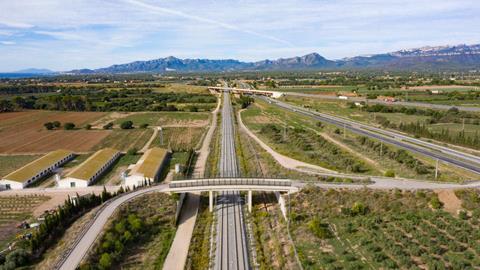 SPAIN: Commercial services began using a 46·5 km cut-off between Camp de Tarragona and Vandellòs on January 13, when ADIF completed a further section of upgrading on the Barcelona – Valencia Mediterranean Corridor.
Intended to bypass the last remaining section of single track on the corridor west of Tarragona, the line was authorised as long ago as 1998, and work started in 2000, but the project was subsequently delayed by a variety of problems.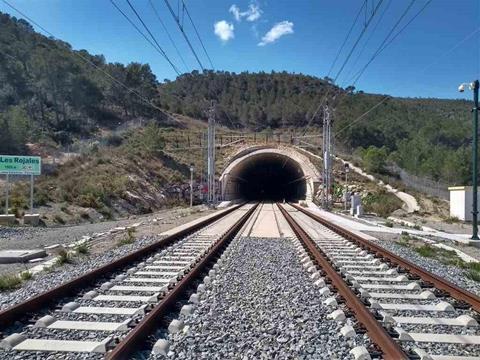 Diverging from the existing corridor at Vandellòs, a 35·3 km line runs northwards through the 1 911 m Les Rojales tunnel and continues around 2 km inland behind the resorts of Salou, Cambrils, Mont-Roig del Camp and L'Hospitalet de l'Infant, where the former 1 668 mm gauge alignment which passes through the towns at grade is to be dismantled. A triangular junction at Vila-Seca connects with the Tarragona to Reus main line, to enable freights to access the Tarragona industrial district. This line then joins the coast line to the northeast of Port Aventura station.
North of the triangle, the new line reaches a gauge-changing station at La Boella, close to Reus airport, from which an 11·5 km section of 1 435 mm gauge leads to a triangular junction with the Madrid – Barcelona high speed line just west of Camp de Tarragona station. This section is electrified at 25 kV 50 Hz, while the broad gauge sections are wired at 3 kV DC. Including the triangular chords and the connection into Tarragona, the project totals 62·5 km of new construction.
Technical standards changed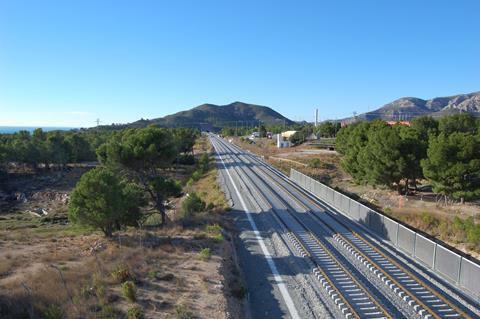 Construction of the new alignment was suspended in 2003, but resumed in December 2012 when the government relaunched its Mediterranean Corridor upgrading programme. Tracklaying began using dual gauge sleepers, but in January 2014 the Ministry of Development revised the plan in favour of constructing most of the route as a 1 668 mm line. At that stage it was hoped that trains might start using the deviation in late 2015 or early 2016. In August 2016, the ministry changed its mind again to specify that one track should be dual gauge, but the tracklaying had already been completed using gauge-convertible sleepers rather than those designed for dual gauge with three running rails.
The line between Vandellòs and Tarragona is equipped with ETCS Level 1 and ASFA train protection, while Level 2 is provided on the standard gauge section to Camp de Tarragona. Maximum line speed throughout is 200 km/h, and refuge loops have been built to handle freight trains up to 750 m long. As well as the Les Rojales tunnel, there are several viaducts totalling 9·1 km.
The catenary was energised on November 20 2017, allowing the start of test running, using one of ADIF's laboratory trains to check the functioning of the ETCS. By early October 2019, 15 000 km of test running had been satisfactorily completed, mostly using S121 and S130 trainsets to evaluate the gauge changing equipment for both the CAF and Talgo systems. ADIF puts the total cost of the new line at €700m, including funding contributions from the EU's Connecting Europe facility.
Journey time savings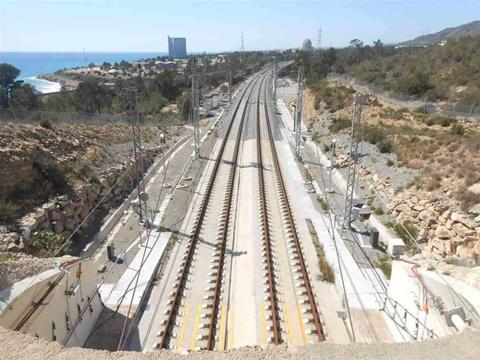 Of the 28 long distance services per day which previously served Tarragona, only 12 remain; the others are now routed via the high speed line between Barcelona and Camp de Tarragona. Journey times between Barcelona and València have been reduced by between 30 and 40 min, giving a fastest timing of 2 h 35 min. Tarragona is still served by a 54 local trains per day to and from Barcelona, some of which run through to Port Aventura.
Intermediate stations have been built at Cambrils-Salou, Port Aventura and L'Hospitalet-Mont-Roig to replace those on the old route.
Salou and Cambrils have lost all of their local services; although 25 trains per day call at their new station, built at a cost of more than €20m, none of these are Euromed high speed services. From February 3, RENFE plans to introduce a morning Avant service from Tortosa to Barcelona-Sants, calling at l'Aldea, l'Hospitalet de l'Infant, Cambrils and Camp de Tarragona, together with a late afternoon return working.