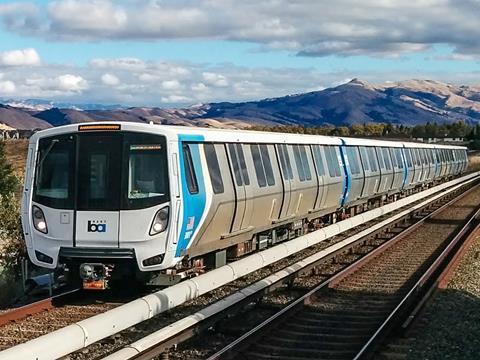 USA: The award of a $798m contract for Hitachi Rail STS USA to roll out communications-based train control on the San Francisco Bay Area's BART metro network was approved by the operator's board on January 9, along with projects to improve passenger connectivity and deploy security staff.
Replacing the existing fixed-block signalling over the next 11 years is expected to significantly increase capacity.
'This will be a pivotal project in BART's history', said General Manager Bob Powers. 'We will now be able to eliminate aged and obsolete equipment. Modernising our train control system will help us to support future ridership in the busiest sections'.
CBTC is one of the 'big four' elements of the $3·5bn Transbay Corridor Core Capacity Project, which also includes 306 more Fleet of the Future cars, a maintenance facility and new substations.
Funding is coming from a variety of local, state and federal sources, including bonds approved by voters 2016 and the Federal Transit Administration's capital investment grant programme.
The work will boost overall capacity by 45%, said Carl Holmes, BART's Assistant General Manager for Planning, Development & Construction. 'This is critical because our trains are already crowded, and we anticipate the average number of riders who travel transbay per hour during the commute will jump to 30 000 by 2030.'
In addition to the main contract, Hitachi Rail has been awarded contracts worth $82m to supply CBTC for the Silicon Valley Extension, funded by Santa Clara Valley Transportation Authority.
BART is to work with wireless infrastructure firm Mobilitie to improve mobile phone connectivity and provide seamless wi-fi at stations within four years and on the Fleet of the Future trains within five years. This will also pave the way for mobile ticketing and personalised information services. Bluetooth technology will support indoor navigation at stations.
Through a multi-agency project, connectivity will also be provided in the Muni light rail network's Sunset, Twin Peaks and the Central tunnels within two years, and fibre optic cable will be installed on BART and SFMTA rights-of-way to generate additional revenue.
'This digital railway project opens up the potential for BART to offer world-class digital communication to our riders and to modernise our business practices', said BART's Chief Information Officer Ravi Misra.
The pilot six-month ambassador programme to start in February will to increase the presence of uniformed personnel on trains to address passenger concerns about safety and security. The 10 ambassadors will be recruited from the BART Police Department's Community Service Officers, who will receive additional de-escalation and anti-bias training.