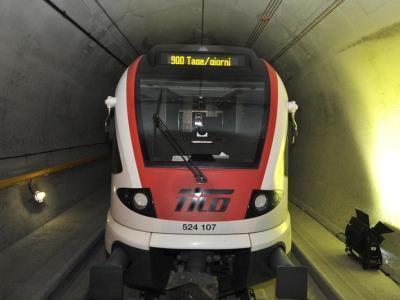 SWITZERLAND: Transport Minister Doris Leuthard launched the first official test train through a completed section of the Gotthard Base Tunnel on December 16.
Accompanied by Swiss Federal Railways CEO Andreas Meyer and AlpTransit Chairman Renzo Simoni, Leuthard took the opportunity to announce that the Base Tunnel would be inaugurated during the first week of June 2016, with a public festival taking place over the following weekend. The countdown to the ceremony has now started, with just 900 days remaining until the inauguration, the minister affirmed during a trip on board a Tilo Class 524 Flirt EMU at 160 km/h.
Trials are being conducted in the 13 km section of the west bore between the southern portal at Bodio and the multifunction station at Faido, which has been completely fitted out. Testing is expected to be undertaken on around 100 days over the next six months as part of a programme designed to ensure that AlpTransit can hand over the tunnel to SBB in full working order. The national operator would then have six months to conduct its own tests before the start of public services at the end of that year.
The pilot programme will see trains and equipment tested at up to 220 km/h, with AlpTransit Gotthard hiring in rolling stock and staff from SBB. 'Tests will be conducted of the complex interplay between the various processes, systems and equipment such as the track, overhead conductor, power supply, tunnel infrastructure, train control and safety, as well as operational communications', explained the project company.