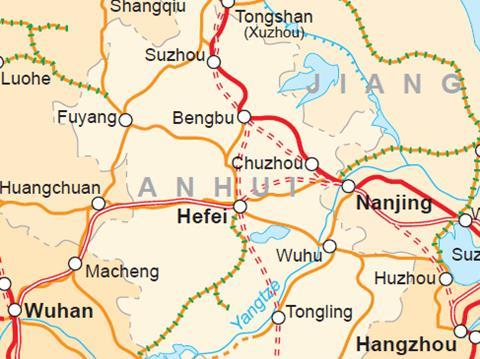 CHINA: The 132 km Bengbu - Hefei high speed line entered service on October 16, with the departure at 08.10 of trains G263 from Beijing South and G262 from Hefei.
The north-south line links Bengbu on the Beijing - Shanghai Passenger-Dedicated Line with Hefei and the east-west high speed line to Wuhan and Yichang.
Bengbu - Hefei journeys now take 38 min, over an hour less than by conventional train, and direct journeys from Beijing to Hefei have been cut from 9 h to 3 h 50 min.
At the opening ceremony, Ren Zhangshao, head of Anhui's Reform & Development Commission, noted that the line was an important component of China's medium and long-term railway development plans. It would enable the development of a 'half-hour economic ring' between Hefei, Huainan and Bengbu to promote regional integration and development, as well as improve links between Hefei, the Yangtze Delta and Beijing.
Construction started in January 2009, jointly funded by the Ministry of Railways and Anhui province. The alignment is designed for 350 km/h operation, although trains are currently limited to 300 km/h. New stations have been built at Huainan East and Hefei North City, while Bengbu, Shuijiahu and Hefei stations were refurbished to accommodate the high speed trains.
There are six Beijing - Hefei train pairs from Monday to Thursday, and seven from Friday to Sunday. Up to nine per day are planned for busy periods.