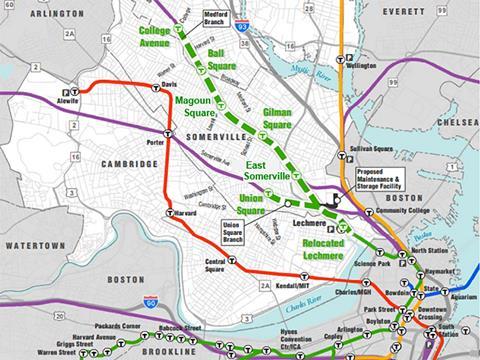 USA: The award of a design and build contract for Boston's Green Line light rail extension was approved by Massachusetts Bay Transportation Authority on November 20.
The winning bidder was the GLX Constructors joint venture led by Flour and including Balfour Beatty Infrastructure, Herzog Contracting Group and The Middlesex Corp. The contract is worth $1·08bn, including six options for platform canopies, additional lifts, public art, walking routes and depot enhancements which had been separated from the main works with the aim of lowering costs after the project was put on hold in 2015.
One other bid was submitted, a third bidder having dropped out. 'The selection process was extensive and thorough, and we are pleased that the outcome is that the cost is under our affordability limit', said MBTA General Manager Luis Ramirez.
The project includes the construction of two branches of the Green Line totalling 6·9 km, one running from the relocated Lechmere stop to Union Square and the other from Lechmere to College Avenue station. The will be six new stops, and a depot. The project will also require relocating sections of heavy rail routes. Construction is scheduled to get underway in 2018 for opening in late 2021.
The extension is intended to offer a one-seat ride to central Boston, with the aim of reducing car usage. Daily ridership is estimated to reach 45 000 by 2030.