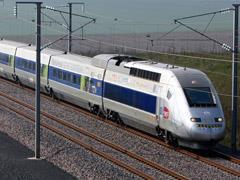 FRANCE: Réseau Ferré de France announced on January 12 that it has selected a Bouygues-led consortium as preferred bidder for the 25-year PPP concession to design, build, maintain and finance the 60 km mixed-traffic high speed line bypassing Nîmes and Montpellier.
The consortium includes Bouygues TP, DTP Terrassement, Colas, Alstom Transport and Spie Batignolles, along with financing partners Méridian Infrastructure and FIDEPPP.
Total cost of the project is put at €2·06bn, of which €1·83bn will be provided through the PPP contract. RFF expects to sign the public funding agreement with the French government, the regions of Languedoc-Roussillon and Gard and the municipalities of Montpellier and Nîmes in the first quarter of 2012. Construction is expected to get underway by the end of this year and take four years, generating around 6 000 direct and indirect jobs.
As well as the 60 km high speed line running from LGV Méditerranée at Manduel east of Nîmes to Lattes west of Montpellier, the concession includes a 10 km link with the rail freight corridor on the right bank of the Rhône and three other connections to the existing network at Jonquières, Lattes and Manduel totalling 10 km. The line is expected to cut typical inter-city journey times by around 20 min.
For the first time, RFF will take direct responsibility for construction of two new stations, at Manduel-Redessan to serve Nîmes and at Odysseum to serve Montpellier. These are to be developed in partnership with the local authorities which will undertake local development and provide connecting TER regional trains and an extension of the Montpellier tram network.
The line received its Declaration of Public Utility in May 2005, but it was not until September 2008 that RFF began the process of choosing a PPP partner. Consortia led by Bouygues TP and Vinci Concessions were shortlisted to submit their final offers in October 2011. The RFF board made its decision on the basis of four criteria: cost, financial robustness, technical and environmental quality and local employment opportunities.