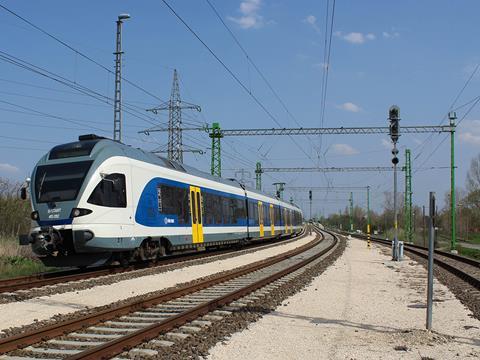 HUNGARY: Regular electric services on the Budapest – Esztergom route began on April 9, building on a single daily electric train between Piliscsaba and Budapest Nyugati which had been operating on a trial basis since the December 2017 timetable change.
Some services are still operated using diesel multiple-units, with the full switch to electric traction and associated reductions in journey times scheduled for later this year.
Work to upgrade the 53 km route began in 2012. The first phase undertaken by contractors Aranyhegy Konzorcium, Szemafor Konzorcium and Inflexió Konzorcium included the construction of new stations at Aranyvölgy, Szélhegy and Vörösvárbánya, double-tracking the Pilisvörösvár – Aquincum section of the line and building three bridges and an underpass. EU sources met 85% of the HF44·5bn cost.
The second phase undertaken by a consortium of Strabag Vasútépítő, MVM OVIT Országos Villamostávvezeték and TRSZ included electrification and the installation of D55 signalling, as well as doubling of the Angyalföld – Újpest section. A new stop was built for tram route 14 at Angyalföld station, and Esztergom coach station was relocated next to the main railway station. The HF33·6bn cost was fully funded by the EU.