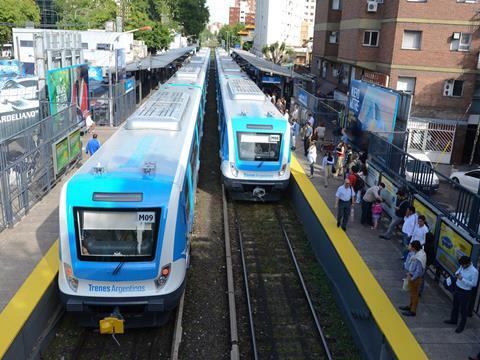 ARGENTINA: Agreements to fund the purchase of Nippon Signal Automatic Train Stop equipment for the Buenos Aires commuter network were signed during a recent official visit to Japan by President Mauricio Macri.
A US$49∙5m loan agreed by Japan Bank for International Co-operation, Deutsche Bank and the government of Argentina is to fund 85% of the cost. According to Finance Minister Luis Caputo, this is the first agreement with an export credit agency to be signed by the government in over 20 years.
'The objective is to have the new system installed across the entire Buenos Aires metropolitan area within four years', said Transport Minister Guillermo Dietrich. Covering a total of 280 trainsets and 1 500 track-km, this would see ATS operational on the Urquiza, San Martín, Belgrano Sur, Belgrano Norte and Sarmiento routes in 2018, followed by the Tren de la Costa light rail route, the Mitre network and remaining sections of the Roca system in 2019.
The government has signed a memorandum of understanding with both China Machinery Engineering Corp and China Development Bank to increase by $1∙6bn the $2∙47bn upgrade programme that CMEC is undertaking on the Belgrano freight network. The additional funding would be allocated to projects including work to upgrade 92 bridges, provide a rail bypass around Santa Fe and improve access to the port of Rosario.