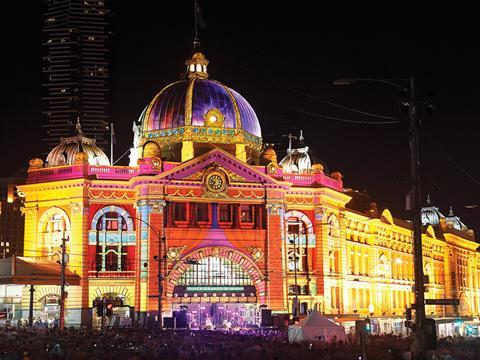 AUSTRALIA: Built Pty Ltd has been awarded a contract to refurbish the historic administration building at Melbourne's Flinders Street station, Victoria state Premier Daniel Andrews and Minister for Public Transport Jacinta Allan announced on March 1. The work will include repairing the leaking roof, restoring the 'crumbling' façade and re-painting the building.
The contract has been awarded as part of a wider A$100m modernisation of the 1910 station which is scheduled for completion in 2018. The concourse is to be extended along Swanston Street, with new entrances at the western end near Elizabeth Street and in the Degraves Subway. The main entrance on the corner of Swanston Street will be redesigned, new information boards and signage installed, walls retiled and repainted and the toilets refurbished.
'The new entrances, ticketing and passenger information will make it easier to get in and out of the busy station, and get to the right platform at the right time, to get the train,' said Allan. 'We're fixing the leaky roof, restoring the crumbling walls and giving the station a new lick of paint to return this grand old dame to its former glory, and make it a place passengers, visitors and everyone in Melbourne can be proud of once again.'
Plans for the modernisation of Flinders Street station were described in the August 2014 issue of Railway Gazette International, which subscribers can access in the digital archive.