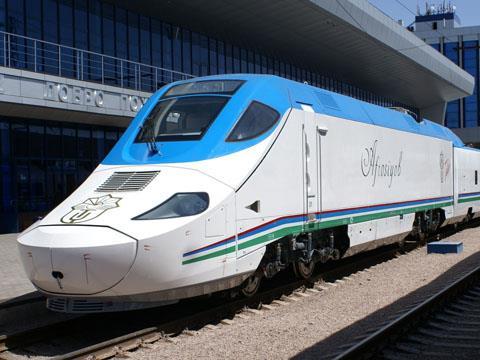 UZBEKISTAN: A US$162m, 20-year loan to finance electrification of the 465 km Bukhara – Miskin – Urgench – Khiva railway was signed by the government and the Asian Development Bank at the end of December.
Electrification will enable national railway UTY to operate Talgo 250 Afrosiyob trains at up to 250 km/h on the route, cutting 2 h from the Bukhara – Khiva journey time to offer a 7 h trip from Toshkent to Khiva.
The project is scheduled for completion in June 2026. Ridership between Bukhara and Khiva is expected to increase from around 280 000 to 1 000 000 passengers/year by 2026, and freight traffic is projected to reach 11·8 million tonnes/year.
The project is intended to support the creation of an economic corridor linking the Khorezm region to the rest of the country, benefitting industry, agriculture and tourism, as well as to support decarbonisation objectives· It also forms part of the Central Asian Regional Economic Co-operation Corridor 2 programme to connect China with Europe through Central Asia.