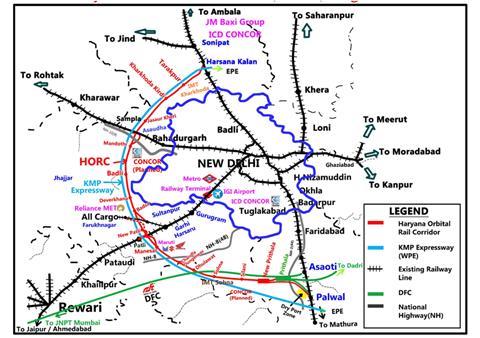 INDIA: The Cabinet Committee on Economic Affairs has approved proposals for the Haryana Orbital Rail Corridor, a 122 km double-track line running around the west of Delhi from Palwal in the south to Harsana Kalan in the north.
The orbital route would connect with existing radial lines at Patli on the Delhi – Rewari line, Sultanpur on the Garhi Harsaru – Farukhnagar line and Asaudha on the Delhi – Rohtak line. It would also connect to the Western Dedicated Freight Corridor at Prithala.
The orbital line would enable freight trains to be routed around Delhi, helping to decongest the National Capital Region and supporting the development of multimodal logistics hubs. It is expected to carry up to 50 million tonnes of freight per year.
The line would also provide commuter and long distance travel opportunities for under-served areas of the state of Haryana, with a projected ridership of 20 000 passengers per day.
The Rs56bn five-year project approved on September 15 is to be implemented by the Haryana Rail Infrastructure Development Corp, a joint venture between the Ministry of Railways and the Government of Haryana, with the involvement of private stakeholders.